The problem that developers face when building an app as opposed to a website is that an app is often left out of search results from Google. Given that Google is the single biggest driver of traffic on the Internet, being left out of search results is kind of a problem.
Google is fixing that.
Google announced a new feature for developers in Android 4.4, KitKat today that allows for apps to show up in Google's search results. "App Indexing" is new feature that puts handy links (or "deep links") to a user's mobile apps amid typical Google search results.
App indexing allows the user to have a single jumping-off point to cull information and trigger related apps without having to perform redundant manual searches across multiple applications. Basically, you search Google, get a result and open an app all from the same page.
The specific results vary, depending on what's installed on your phone. In Google's example, searching for the movie "Gravity" would bring up a Flixster-related "Open in app" button, which calls up the app with the movie title already filled out.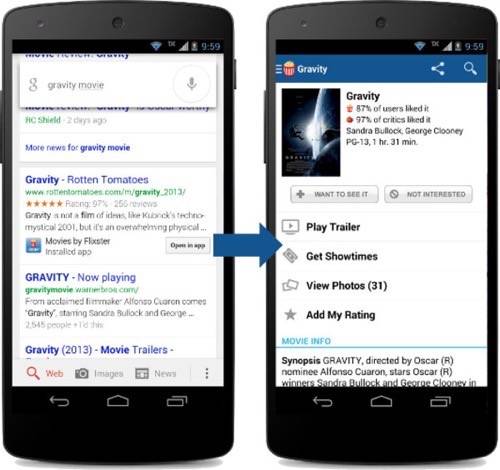 A number of things had to happen behind the scenes to make that possible. First, the Flixster app had to support deep linking. Second, Rotten Tomatoes had to designate the Flixster app page as an alternative. Third, Google had to index Flixster, to make sure it was relevant. Finally, the user had to have the Flixster app installed.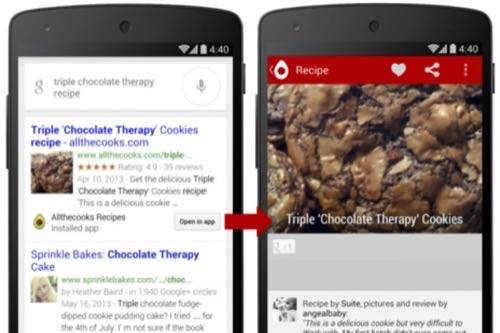 Similarly, a search for "triple chocolate therapy recipe" would pull up a deep link to in-app content for, say, the Allthecooks recipe app.
Apps like Twitter and Google Plus already use deep linking, so the concept is nothing new for users. On the developer side, Google seems to have put some thought into the implementation process, even suggesting that it has worked hard to make it less cumbersome to integrate.
It won't be long before other developers follow suit and add Android app indexing to their apps, particularly if it can bolster usage rates by giving people an easy pathway to enter apps. But before it can do that, the feature needs to roll out to the public—which, the company says, will happen for U.S. users starting in November and throughout the next few weeks.
Google said that 10 apps have already used the app indexing process including: AllTheCooks, AllTrails, Beautylish, Etsy, Expedia, Flixster, Healthtap, IMDb, moviefone, newegg, OpenTable, Trulia, and Wikipedia.
For more on App Indexing, you can read the developer guidelines here or check out the embedded video below.