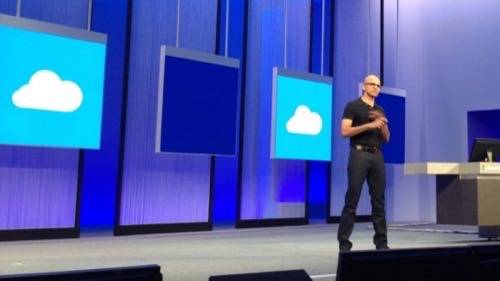 "And now, we're going to demonstrate adding Windows Azure cloud services to an iOS app, on a Mac."
A Microsoft employee uttered those words. Really.
In a keynote at Microsoft's Build conference for developers Thursday morning, the software giant pushed hard to show a different side. While Wednesday, the first day of the conference, was all about Windows—the operating system that has long been at Microsoft's heart, Microsoft made an appeal for a very different set of digital creators—people who craft code for the Web or mobile apps, for whom Windows is an irrelevancy.
Plays Well With Others
In demo after demo, Microsofties attempted to show they spoke these cloud-born developers' language. Here's Twitter's Bootstrap framework for responsive websites that run well on smartphones and tablets! Here's an app for iPhones, running behind the scenes on Microsoft's Azure cloud! Here's support for Git code repositories in Visual Studio! Here's new-wave enterprise darling Box CEO Aaron Levie, head of the online-storage startup! Here's how Azure is running Hadoop services with HDInsights and Windows Server is plugging into the Hortonworks Data Platform!
"You've seen a whole new Microsoft" at Build, Levie said.
Levie joked that he expected Microsoft founder Bill Gates to drop from the ceiling and snatch the renegade Mac off the stage. (That didn't happen, sadly.)
This has not been an overnight epiphany for Microsoft. But today's keynote was the purest demonstration of the new approach.
A Key Player Emerges
The champion of this approach is Satya Nadella, the head of Microsoft's Server and Tools division. His business unit has been minting money lately—more than the Windows division, in fact.
Microsoft's experience with cloud services—the generic term for any software running on remote, Internet-connected servers—dates back a couple of decades to its MSN online service and its acquisition of Hotmail, the Web-based email service. (Microsoft recently renamed Hotmail Outlook.com, after its desktop email client.)
Now, almost every notable service Microsoft provides runs on the cloud, from Skype to Xbox Live to its Bing search engine. Its mobile services, which back up new Windows 8 tablet apps as well as the struggling Windows Phone ecosystem, likewise depend on the cloud.
A Question Of Identity
So what is Microsoft today? Is it, in the classic formulation, the Windows-and-Office Company? Or is it a cloud company?
(See also Microsoft Tries to Position Azure as Cloud Option of Choice for Mobile Devs)
As a thought experiment, imagine Microsoft without Office and Windows. You'd have a cloud business second only to Amazon Web Services—one that's actually relevant to startups like Box and the huge army of iPhone app developers.
Now think of Microsoft with just Office and Windows, and no cloud infrastructure. That would mean no Office 365, the online version of the productivity suite. No Skype. No Yammer. No notifications for Windows apps. No SkyDrive storage. Hard to picture, right?
Microsoft's cloud business benefits from having big customers in its Windows and Office divisions. But it could theoretically get by without them. The same isn't true for Windows and Office.
That suggests there's been a big power shift within Microsoft, from its classic desktop-software franchises, to the cloud on which it's building its future. And Nadella's at the center of that shift. That—along with his division's embrace of software creators outside the Windows universe—is a development worth watching.
Whether or not Bill Gates jumps in from the ceiling.
Photo of Satya Nadella by Owen Thomas for ReadWrite.