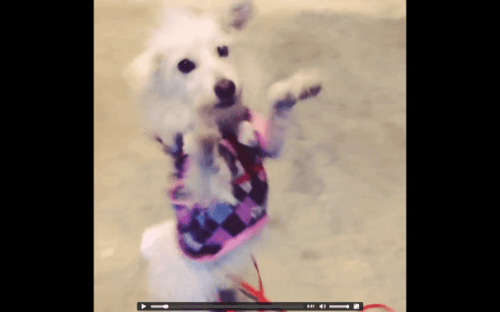 I think everyone's looking at Instagram's new videos the wrong way.
What will make Instagram successful in video isn't some specific product. Rather, it's the way Instagram videos play well on Facebook. And I mean "play well" both literally and figuratively.
The Featured Presentation
Everyone's comparing Instagram to Twitter's Vine app. Both allow users to take short video clips. And so it's easy to tick off a list of explicit product features—max video length, stabilization, filters, and so on—without considering which ones people will really use.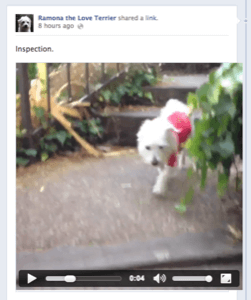 I've long argued that what made Instagram special was not its photo filters, but the ease and speed of sharing.
Ease And Speed
One reason brands flocked to Instagram early on, even though there wasn't (and still isn't) any way to advertise on Instagram, was that Instagram made it easy for them to post photos to Facebook pages.
And when Instagram launched, it was a better way to share photos on Facebook than Facebook's own mobile app—with one disadvantage, which is that photos appeared as small thumbnails.
In January 2012, Instagram made a key switch, posting photos at full size on Facebook.
"That was huge for us," Instagram founder Kevin Systrom told me at Thursday's launch event for Instagram video at Facebook headquarters. In a matter of months, Instagram's user base ballooned to 30 million users—and Facebook announced it would buy Instagram for a billion dollars.
At the event, Systrom also confirmed to me that videos would post to Facebook in the same direct manner.
Sources And Sinks Of Video
Twitter's Vine can technically post to Facebook, but it's limited to a link and a thumbnail—a weaker level of integration that means users must click through to watch a video.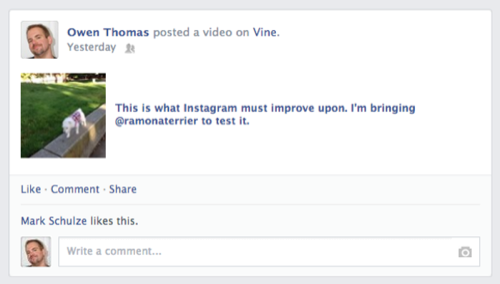 On Twitter, it's the opposite situation: Vine videos play automatically within tweets, while Instagram videos, like Instagram photos, appear only as a link which users must click.
This state of affairs is vaguely annoying for users, who must choose whether their friends on Twitter or Facebook (or just Vine and Instagram, which are specialized social networks in their own rights) see a given video.
But for brands seeking to maximize the reach of marketing materials they create, it's maddening. Do they make a Vine video or an Instagram? If they have to pick one, it will probably be Instagram, with its 130 million users and hooks into Facebook's billion-user audience—not to mention the advertising-friendly 15-second length.
This is just part of a larger battle Twitter and Facebook are fighting to become the ultimate sink—the collecting point, the final destination—of all forms of expression on the Web, from textual status updates to photos, videos, and links.
You've Got A Lot Of Work To Do, So I'm Going To Let You Get To It
Instagram is far from done. Systrom confessed to me that he hadn't gotten a chance to test the integration with Facebook Pages before launch. When we tested it, we discovered Instagram videos wouldn't play natively within Facebook's mobile app. Instead, they launch the Instagram app and play there.
That's something Systrom's colleagues will likely have to resolve with an update to Facebook's mobile app. (On the website, as promised, Instagram videos play on user profiles, brand pages, and the News Feed.)
Twitter also has an interesting distribution opportunity that Instagram lacks—the open Web. Like YouTube videos, you can embed Vine videos on any Web page. You can't do that with Instagram—at least not without some elaborate workarounds that aren't supported by Facebook and could break at any time. For marketers eager to reuse videos they take for Vine on other websites, that could be a selling point.
The end game here is to fill our social spheres with short, easy-to-consume, enjoyable video—and then unobtrusively slip in some video ads into the stream.
For Facebook and Twitter, Instagram and Vine don't have to be ad platforms in their own right. All they have to do is lower the barriers to sharing video. That's the one feature that really matters—and so every little detail of how moments turn into moving images is crucial for their success.