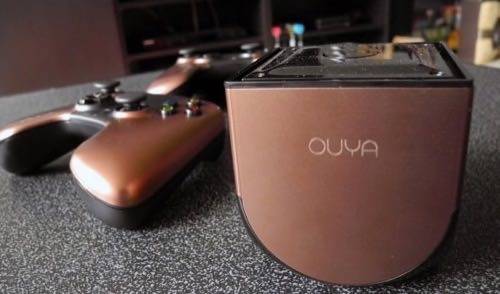 A few weeks before our Ouya arrived in the mail, my husband was having second thoughts. Like 63,416 others, he'd eagerly parted with his cash (in his case, a cool $225 for the limited edition color and name plate etching), during the throes of Kickstarter hype around the open source Android-based gaming platform.
Months later and still no Ouya, he was wondering if he'd made the right choice. He wondered why I, the usually-trusty voice of reason against BioShock Infinite Collector's Edition pre-orders and Magic: The Gathering rares, hadn't spoken up.
"Now, I kind of wish you'd talked me out of it," he said.
But (maybe since I didn't lose any money on the deal), I was more excited for the Ouya than ever. Un-piqued by June's monotonous E3 lineup, I was ready for something new.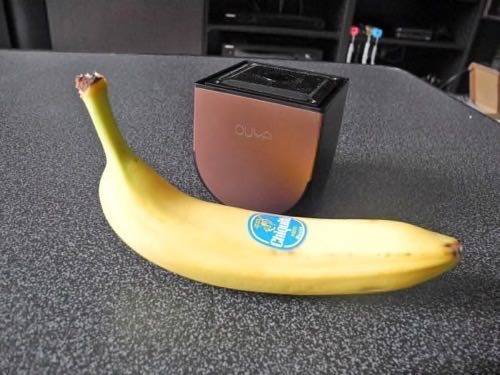 As it turned out, we didn't have long to wait. When we returned from vacation, a tiny box from China had beat us home. Even though we couldn't agree on the pronounciation (Me: Wee-yah; Him: Oy-yah; Actual: Ooh-ya), we opened it right away.
Inside, we found an even tinier box in "rich brown brushed metal." How small was it? Well, since fruit is such a reliable unit of console measurement, here's our Ouya with a banana for scale.
But neither of our lifetimes of console gaming fully prepared us for what was really inside.
An "Anything Goes" Sandbox
There's a reason the Ouya Kickstarter was the first ever to make $8 million. It promised a gaming experience that was as much for developers as for players. And on that selling point, it looks like it has delivered.
Ouya's biggest strength would be a weakness to any other console of this generation – it's got zero quality control. Just by browsing Ouya Discover (the console's store), I've played games with 3D engines and games that look like they were made in MS Paint.
In other words, you'll find games on Ouya that you won't see anywhere else because big companies don't want to risk their budgets on the weird stuff. They stick with what works and what sells, so you can always expect lots of stubbly white male protagonists navigating war zones. Meanwhile, Ouya exclusives include unusual concepts like Soul Fjord, a combination of Norse mythology and 70s funk. Really.
Since nothing's been tested and developers are playing by ear. Many games, including pixelated side-scroller Fist of Awesome and rhythmic shooter Dub Wars, are trials that link to Kickstarters of their own. Just like Ouya wants you to consider your console the beta version, it's sometimes the same with the games you can play on it.
Likewise, you can start developing your own games on Ouya for free. You can download development tools and even get feedback on your in-progress projects for nothing.
Legal Troubles Ahead?
When you buy a Ouya, you're buying complete ownership – the ability to hack, crack and root your console to your liking. With that kind of freedom, it'd be naive to assume owners won't try anything legally dubious. And sure enough, they already have.
Ouya Discover abounds with free emulators, software that mimics the functions of other consoles. Gamers can use them to play homebrew games meant for older systems, such as the Super Nintendo. But aside from legal uses, gamers can also use emulators to play pirated copies of hard-to-find games.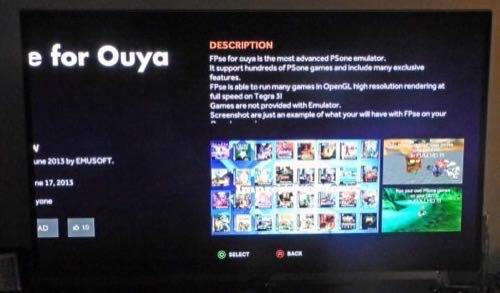 On the left is a photo I took of one of the emulators available, designed to play PlayStation 1 games. While emulators inhabit a legal gray area as a whole, these uncredited screenshots are undoubtedly illegal.
Ouya's creators are fully aware of the emulator/piracy connection, revealed in an interview with Kotaku. Ouya's official response is that it won't accept store submissions of emulators that come with games, nor will it accept submitted ROMs of games.
However, the Ouya's major selling point is, once again, that you can do anything you want with it. It's only a matter of time before piracy finds a way. Since the Ouya has a USB port, I've already thought of one option – sideloading games from a flash drive.
Can It Compete?
I've had a lot of fun playing with the Ouya. But as we near its June 25 release date, is it something worth buying over a mainstream console?
Quality-wise, it's no replacement for the PlayStation 3, or in some cases, even the Nintendo 64. Since so many games are indie and homebrew, there's no guarantee you'll have good-looking graphics or, in some cases, even controls that work.
For some longtime gamers, this may be a small price to pay. Today's gaming landscape is shrinking, filled with increasing DRM limits that keep us from fully owning the games and consoles we thought we bought. In this kind of world, the Ouya is a respite.
As for my husband, I don't think he's regretting the Ouya anymore. We've either played with it or showed it off to friends for four nights straight.
Still, in a few short months it'll be the holiday season and E3's offerings will all be released. It's hard to say if by that point, the Ouya will be gathering dust in the back of a closet while we make room for a shiny new PS4.