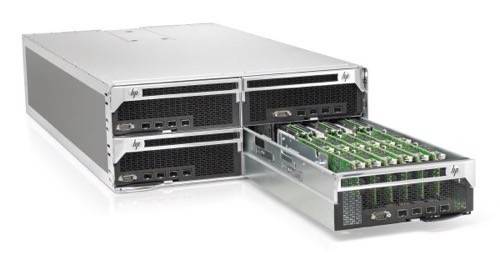 If anything, give HP credit for historical parallels: when John F. Kennedy wanted to shake the U.S. out of a calamitous post-war funk, he gave Americans something to shoot for: the Moon. It's very much in that spirit that HP's management is hoping their latest Moonshot server product line will revitalize a company that's been mired in declining hardware sales.
Based on early indications, there is a good chance that this launch will be successful.
Moonshot is not your typical server, with a single set of processors and memory storage sitting in a racked box, just one among many such boxes tightly networked together in racks and racks of such servers, filling up data centers, sucking in power and pumping out heat like a furnace. No, Moonshot is very much different.
What We Know
Reports have indicated that Moonshot servers will be small, cartridge-like devices only take up 6% of a current server's space. Cartridges can be slotted into enclosures that will hold 45 of the microserver units. It is estimated that a standard server rack can hold anywhere from 10-40 enclosures, similar in look and feel to the Project Redstone development server configuration pictured above.
This configuration will use 89% less power, early reports have stated. From a cost standpoint, that's huge: not only are you knocking down your electric bill by nearly 90% per server, but low-power chips mean far less heat energy is created from voltage leakage and alway-on processors. Less heat means less money spent on cooling.
"To put in that perspective, if just 10 large web services providers switched their traditional x86 servers to Moonshot, they could save a combined $120 million in energy operating expense and nearly one million metric tons of CO2 per year. The equivalent of taking over 180,000 cars off the road for a year," CEO Meg Whitman said on a recent HP earnings call.
Another unique feature of these devices: they aren't tied to a single type of processor. Sure, there's Intel chips in there, represented in the form of the low-power Atom processors, but there's also support for ARM-based chips as well, from a variety of manufacturers. Multiple flash-based or standard hard drives are supported, too.
That means you can order exactly the hardware combination you need, instead of trying to port your applications to a single rigidly defined hardware platform. Theoretically, you could build a single private cloud that would run applications built for multiple architectures, each application talking the the Moonshot unit that has the architecture it needs.
What We Don't Know
The big unknown, at this point, is how much these microservers will cost. That's going to be a key difference to whether these are truly going to reach their destination or just fizzle on the launchpad.
Looking at HP's ProLiant Gen8 servers, the low-end starts at $885 for the DL100 model, and $899 for the starting DL300. The question is, how many Moonshots equal the equivalent in processing power and storage of one of these full-sized server? If you tell me, hypothetically, that it would take five Moonshots to equal one DL100 (and trust me, I have no idea at this point) and each Moonshot costs $250, then that would be a problem, even factoring in the expected overhead for the customization costs that might be built in to the units.
But, tell me that Moonshots will cost $150 with the same hardware specs, and I'd be all ears.
Until we get the details on the price and the specs, there's no telling how successful these will be. If HP were smart, they wouldn't price these things out of the ballpark… and not just to attract sales from existing standard server owners. They also have to make prices attractive to keep potential customers from shifting over to a public cloud environment – a more difficult scenario every day as providers like AWS and Google keep lowering their prices.
And even if Moonshots do take off, expect this to be a slow launch. Like the first moments of a Space Shuttle launch, when the rockets seem to just creep upwards, so too will Moonshots take a while to be widely deployed. Developers have to figure out how to work with them, and IT managers have to find reasons to put them on the procurement lists. To take off in the private cloud sector, there needs to be support from platforms like OpenStack and CloudStack soon.
A lot is riding on this launch for HP, which could bring change to the IT industry as a whole: if a truly flexible low-power system can be introduced, the potential for savings and environmental benefits for the enterprise will be impossible to ignore.
Image courtesy of HP.