Addicted to Facebook? You're far from alone. Quite a few of Facebook's 1 billion+ users spend a large portion of their day logged in. Some passively check status updates and messages during breaks from work. Plenty of others are glued to social games like FarmVille and Words With Friends.
Using the latest statistics from AppData, we pulled together a list of the seven most addictive Facebook apps. Sure, there are plenty of others grabbing attention (Bejeweled Blitz anyone?), but these seven rank especially high on the monthly and daily active users charts. We skipped third-party services like Spotify and Microsoft Live in favor of the truly addictive, fully integrated apps on which people seem to be wasting the most time.
7. Words With Friends
Words With Friends has been everybody's favorite social Scrabble copycat for a few years now. Still, as new Facebook apps have risen and fallen, it remains one of the most widely used on the platform. Anybody who's ever played Words With Friends knows why. It's truly addictive for the same reason that Scrabble has long been a beloved board game, but this newer digital take on the classic bakes in your actual, real-life friends and lets you play multiple people at once to make it pretty much impossible to stop clicking.
6. Diamond Dash
If you've ever played Bejeweled or Candy Crush Saga, you've essentially played Diamond Dash. It's incredibly simple: look for groups of like-colored diamonds and click on the cluster to make each one disappear. Rack up points. Neglect your professional duties. Repeat.
Diamond Dash has the same basic pattern-seeking premise of many other games, but with as dead-simple of an approach as possible. That way you'll never get frustrated and the game's design, and visual hints ensure you'll keep clicking away until you get fired.
5. Trip Advisor
What better way to kill time on a slow work day than by daydreaming about fleeing your cubicle for some faraway escape? That's apparently what a lot of people do, among other things, on Trip Advisor's Facebook app. It doesn't have as many daily active users as the popular Facebook games, but more than 10 million people use it every month.
On Facebook, you can plot your world travels on Trip Advisor's map, list where you'd like to go and see where your friends have been. It's pretty simple functionality. To be sure, much of the app's activity is probably coming from TripAdvisor.com, a robust travel search utility into which users can sign using their Facebook account. For a travel search site, there could hardly be a more successful social strategy than what Trip Advisor has pulled off.
4. Texas HoldEm Poker
It should come as no surprise that virtual gambling is addictive, just like the real thing. With 38 million users, Zynga's online poker empire is the world's most popular. While you can't play for real money just yet, Zynga is planning to lobby lawmakers in Washington D.C. and California to change that. Later this year, Zynga is going to launch its first legit gambling product overseas. In the meantime, you can continue to waste your workday challenging your friends in one of Facebook's most popular social apps.
3. CoasterVille
Riding on the success of FarmVille, Zynga's CoasterVille has pretty much the same premise, but in an amusement park setting rather than on a farm.
It's kind of like Sim City's less-popular cousin Sim Coaster, but doesn't require anywhere near as much thought. Like so many of the most addictive Facebook games, CoasterVille pretty much tells you exactly what to do and is designed to keep your attention fixated on the game. Ride by ride, you can build your own theme park on the company dime while other people around the world suffer.
2. FarmVille 2
Surprise! FarmVille is really popular.
You knew that though, because even if you don't play Zynga's wildly popular social farming simulation game, you've seen your friends harvesting crops via status updates auto-barfed out by the app. At any given moment, the sequel to 2009's FarmVille can reliably be found in the top three most used Facebook apps. Every day, millions of people spend hours raising virtual farm animals and crops while our collective productivity withers away like a neglected bed of corn.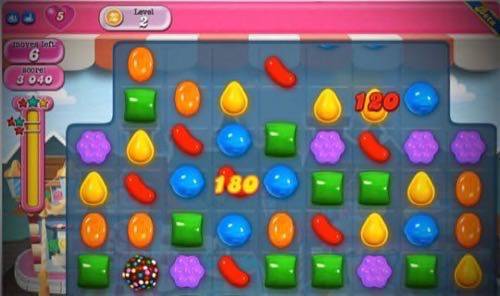 1. Candy Crush Saga
There could hardly be a simpler and harder-to-lose game than Candy Crush Saga. And that's what makes it the perfect Facebook app: You can sit there and mindlessly line up similar-looking pieces of candy, zapping each batch and scoring points as you go in Dr. Mario-like fashion.
If you get stumped, zone out or wind up distracted by Facebook notifications, the game continually reels in your limited attention span with subtle visual animations that hint at what your next move should be.