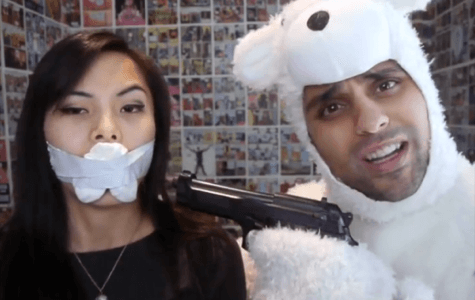 Last night, top YouTuber Ray William Johnson dropped a bombshell: The network he left almost two months ago has yet to return his AdSense account despite promising to do so.
Johnson left his network, Maker Studios, in October to much speculation, which I used as an opportunity to address how YouTube networks were taking advantage of young talent with predatory contracts and unsavory business practices. The story appealed to many, even beyond YouTube insiders, because YouTube, with its DIY style, was supposed to redefine business in the digital era, not mirror corrupt Hollywood practices like exploiting rising hot young things.
"Creators are offered a hook of slightly higher ad revenue, but [they] don't realize that in return for getting a bit more money from ad clicks, they are giving away the rights to what they created," wrote Art Neill, the Executive Director of the nonprofit New Media Rights in an email to ReadWrite. "For a few pennies on the dollar, the content network, not the artist, controls the fate of what the artist has created," added Neill.
A law student at Columbia University who knows his new media rights, Johnson promptly left his network when contract disputes arose.
In a guest post last night on NewMediaRockstars, Johnson tells why he left Maker Studios. The network started shutting down his projects — his Web series and album — in an attempt to strong-arm him into signing a new "aggressive" contract, he said. The new contract demanded a higher cut of his AdSense revenue and 50% ownership of his hit show =3's "intellectual property in perpetuity."
Johnson said he's coming forward (backed by photographs of his contract and communications with Maker Studios) because "I would only like for my Youtube [sic] Adsense [sic] account to be returned to me as promised so that I can move on with my life." (And, he wrote, he "hope[s] that this story will make anyone in the Youtube [sic] community think twice about signing their Adsense [sic] over to a Youtube [sic] network or third party.")
For those unfamiliar with the YouTube industry, content creators use AdSense accounts with Google to capitalize on their work — AdSense being Google's program that sells and serves ads, including ones on YouTube. When YouTubers sign with YouTube networks, which can be anything from a production studio, talent-management agency or distribution service, they hand control of their AdSense account to that network. So, Johnson isn't kidding when he says he needs his AdSense account back to move on.
A YouTuber since 2007 and the site's first video creator to hit $1 million profits through YouTube's partner program, in April 2011, Johnson enjoys an average of 4 million views on each of his main-channel videos.
At an average CPM rate of $2 for every 1,000 views, Johnson makes roughly $8,000 per video on just his main channel. (Johnson could have a higher or lower CPM rate — YouTubers are forbidden from discussing their CPM rates.)
In the two months since Johnson left Maker Studios, he's made 14 videos on his primary channel, which, using the $2 CPM rate, comes to $112,000 in revenue. This is $112,000 revenue that Johnson's work has generated for Maker Studios, despite his no longer being in the network.
While we don't know what cut Johnson was giving Maker Studios in his original contract, it certainly wasn't all of his revenue. Remember, Maker Studios is currently keeping all of his revenue right now as they still have control over Johnson's AdSense account.
Folks have sued for less. For now, Johnson is just blogging and tweeting about his AdSense account, like so:
".@MakerStudios holding a Youtuber's[sic] Adsense[sic] account hostage after you promised to sign it back over is bad for your business."
Maker Studios has yet to respond to requests for comment, but Maker Studios CEO Danny Zappin did bother to send Johnson insulting text messages late last night, one that read, "You're [sic] lack of integrity and character are sad. [Fornicate] you. Prepare for war … bitch."
Photo courtesy of a Ray William Johnson clip on YouTube