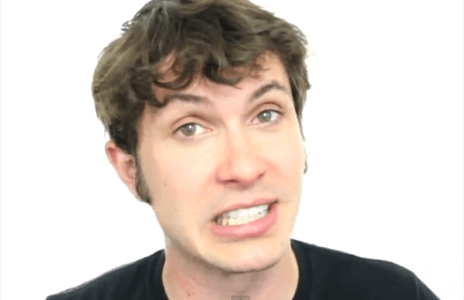 Blame it on the rise of corporate YouTube: Web celebrity Toby Turner was fired from his own CuteWinFail show sometime last week.
CuteWinFail – the show Turner created with YouTube businessman and celebrity Philip DeFranco and hosted three times a week for two years – is essentially the YouTube equivalent of America's Funniest Home Videos. It enjoyed significant success under Turner's nurturing, attracting more than 50 million views and 266,000 subscribers. Even America's Funniest Home Video's production company – FishBowl Media – noticed, and partnered with the duo in 2010. Everything seemed to be going smoothly, until last week when rumors surfaced that Turner had been fired.
Wait what? How does a celebrity get fired from his own show?
Who Owns What?
Well, it appears Turner never actually owned CuteWinFail. Machinima, Revision3 and Fishbowl Media all had stakes in it, with Fishbowl Media's stake being big enough that it could ditch Turner for various breaches of contract. Too many hands in the pot? Or just a YouTuber being lazy?
Attempts to reach Turner were unsuccessful, but statements from Fishbowl Media point to the latter explanation:
"I'm not able to provide a statement on the details of the breaches, other than to confirm that the relationship ended due to multiple breaches of contract," wrote Fishbowl Media Digital Studios vice president and general manager David Beebe in an email to ReadWrite.
In a follow-up email, Beebe continued (emphasis mine):
"At its core, this comes down to making and fulfilling business agreements. Just like YouTube has matured over the years as a distributor, investing millions into premium programming, and building world class production facilities, the talent also needs to mature.If you sign contracts with production companies, networks, brands, etc, you are expected to deliver… This isn't the "good old days" when you can just upload videos when you want. YouTube is a real business now and it's working hard to establish itself as a place for premium content and talent.

Producers, talent, and networks need each other now more than ever in order to build a channel and brand and as such, there are people to answer to as you partner and sign deals with others. Just like when I ran the digital studio at Disney/ABC, I expect talent and others to show up for what they signed up for in order to make the best product ever and consistently. It's no different than the expectations that people are held to at any other job."
Ouch. Maybe Turner is burned out and needs a vacation?
What's Next For Turner and CuteWinFail?
As for what will happen to CuteWinFail, Beebe said "the show will continue and other YouTube stars will be guest hosting as we expand the channel and brand," but he was unable to offer specifics, even on who FishBowl Media has in mind to replace Turner.
Who ever it is, it's going to be a shock to the YouTube community and to Turner's 2.6 million fans, many of whom have yet to hear of Turner's firing. Some have left comments asking when the next episode of CuteWinFail will air, but other than that, Tumblr, Twitter and blogosphere have been oddly quiet.
Turner himself has made no public announcement about being fired from his own show, and even Philip DeFranco hadn't heard of his friend's firing until I tweeted at him about it Thursday morning. Turner's silence is surprising given his huge fanbase, and reeks of embarrassment. Perhaps he is lawyering up or getting ready to announce a new show? That is, if anyone will still work with him.