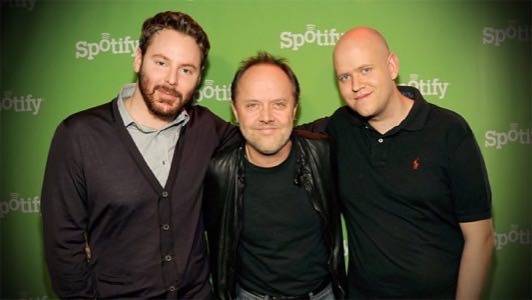 Lars Ulrich wants you know that he's cool with Sean Parker. To show it, the Metallica drummer and anti-filesharing crusader didn't just share a stage with the Napster cofounder this morning – he hugged him. The occasion? Metallica's catalog is newly available on Spotify, the music service in which Parker is now an investor.
The company also announced a significant update to its service, which will aid in music discovery and make it more social overall. Like Twitter, Tumblr and now SoundCloud, the new version of Spotify will let you follow friends, artists and other influencers whose music tastes you trust. This should be a lot more useful than just seeing what everybody you know is listening to in real-time, all balled up into one stream.
Spotify is also adding a "Discover" tab, which sounds like it will borrow a page from some of the service's third party add-ons, displaying music recommendations based on listening history and social data. Digital music discovery is a notoriously tough nut to crack, so we'll have to wait and see how effective these recommendations are. Other promised features include mobile push notifications for new releases and – at long last – the option to add music to your collection without starring it or adding it to a playlist.
The new features will roll out in a desktop app update within weeks, while cross-platform availability is due next year.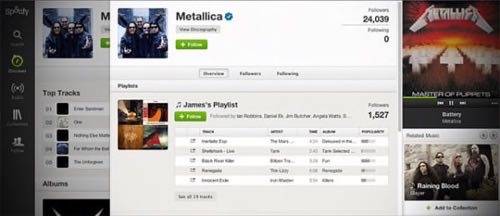 Metallica's Stamp Of Approval Is A PR Win For Spotify
The Metallica deal is a significant win for Spotify, not just because the popular heavy metal band has long been a stubborn hold-out from subscription streaming services, but because of the PR coup it represents for the company. Since launching in the U.S. last summer, Spotify and similar services have faced criticism from some artists who bemoan its low royalty payments and fear that making their music available there could further cannibalize album sales.
In response, Spotify has argued that its payouts aren't as paltry as some of the early checks make them seem and that, at any rate, the service is still new and needs to build up its subscriber base to bring in more revenue. Today, the company announced that it has paid out $500 million to rights holders (mostly record labels). It now hase 20 million total users around the world, about 5 million of whom pay for the service.
In some ways, Spotify isn't all that different from Napster, at least from the consumer's perspective. It's a place you can go, search for music you want to hear, click a button and get access to it. One difference is that on Spotify, you can't download the tracks and keep them. More importantly, the Swedish startup has crafted a business model that allows it to pay music labels and other rights holders, a detail Napster never bothered to worry about and which ultimately led to the service's demise.
Crafting that model – and getting buy-in from artists and labels – hasn't been easy for Spotify. That's why it took the service so long to secure deals and finally launch in the U.S. Even now, as it grows in leaps and bounds, the company struggles with artists threatening to jump ship over the royalties issue.
That's why the endorsement of Lars Ulrich is a huge deal. Here's one of the most prominent, most vocal critics of Napster and unauthorized file-sharing giving a very public nod to streaming services. Ulrich is essentially acknowledging that this might in fact be the future of the music industry, or at least a central part of it.
There's no word on how much Spotify had to fork over to get the rights to stream Metallica's music (nor should listeners hold their breath for The Beatles or Led Zeppelin to show up soon). But whatever the price tag, it's a big deal for Spotify to simultaneously assuage artist concerns and nab a few more listeners in the process.