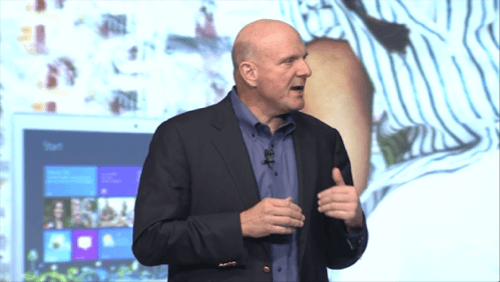 How is Microsoft's Windows 8 faring? Reading the tea leaves, it appears that Steve Ballmer's "modest" comment appears to be on point – or maybe even a bit optimistic.
A number of data points have surfaced that seem to confirm earlier reports that while Microsoft's own hardware is selling fairly well, third-party hardware is struggling. On the other hand, some people with existing Windows 7 hardware appear to be upgrading their PCs. And on Thursday, NPD released data that says Windows device sales have fallen 21 percent, tied in some way to Windows 8.
On Tuesday, newly appointed Windows chief marketing officer Tami Reller told investors at a Credit Suisse technology conference that Microsoft has sold 40 million Windows 8 licenses since the company launched the new operating system 32 days earlier, on Oct. 26. For reference, Microsoft chief executive Ballmer said at the Build conference at the end of October that Microsoft had sold four million Windows 8 upgrades in just four days.
But Asus chief financial officer David Chang told The Wall Street Journal that sales of Windows 8 notebooks have struggled, and declined to release sales data. "Demand for Windows 8 is not that good right now," Chang said.
During the third quarter, the worldwide PC market had already shrunk 8.1% versus 2011, as consumers held off purchasing new PCs until the launch of Windows 8. At least anecdotally, the fourth quarter isn't expected to be much better.
"The launch has been somewhat of a challenge, which has been reflected in all the views we've been getting from a variety of angles," said David Daoud, research director of personal computing at IDC, in an interview Thursday. "And if you triangulate, it confirms or justifies the views that it's going to be a weak quarter."
Daoud declined to release the shipment data that the firm has collected, but said that information out of Asia – which builds most of the actual PCs that ship with labels from Dell, HP, Lenovo and others – hasn't been good.
NPD's Actual Retail Data Is Worse
But analyst firm NPD, which tracks actual retail sales, said Thursday that for the period between Oct. 21 through Nov. 17 – which covers the Windows 8 launch – sales are down 24% for notebooks, and 9% for desktops. At least prices have gone up: the average selling price for PCs has jumped from $433 to $477.
Here's the real problem, though: Windows 8 has captured just 58% of all Windows 8 device sales, NPD said, while Windows 7 captured 83% in the same period after launch. Windows 8 tablet sales have been almost non-existent, with unit sales representing less than 1% of all Windows 8 device sales to date, NPD said. (That excludes sales of Windows Surface, NPD said.)
"The bad Back-to-School period left a lot of inventory in the channel, which had a real impact on the initial sell-through rates for Windows 8," said Stephen Baker, an analyst for NPD. "The strong performance of Windows 8 notebooks with touchscreens, where Windows 8 truly shines, offers some reason for optimism. These products accounted for 6 percent of Windows 8 notebook sales at an average price of $867 helping to re-establish a premium segment to the Windows consumer notebook market."
The comments by Baker, Chang and Daoud echo what Newegg's Merle McIntosh told ReadWrite: that Windows 8 sales have been "slow going," and that hardware sales were similarly slow, though steadily increasing.
The License Question
The problem, of course, is that no one's quite sure of what's being discussed. Microsoft "sells licenses," certainly, but it's unclear whether those licenses were sold to OEMs, who may or many not have deployed them as PCs, or whether they've "sold through," as it were, to consumers. And Microsoft has attempted to spin its own sales on a positive note.
There's also a slight difference in comparing Ballmer's comments with those of Reller, since one is talking about upgrades, and the other, total licenses. Again, the problem is this: if that number already takes into account the so-called "tens of millions" of Windows 8 licenses that Microsoft has already sold to OEMs – and don't have to install – then the new number doesn't prove that Windows 8 sales are on the rise. But if it does reflect "new" demand, then it may be fair to say that Windows 8 is succeeding.
Windows 8 vs. Windows 7
Here's another way to look at it: On March 4, 2010, Microsoft announced that it had sold more than 90 million Windows 7 licenses, 133 days (about 4 months, 10 days) after Windows 7 launched on Oct. 22, 2009. For comparison, Microsoft has sold an average of 1.25 million licenses per day for Windows 8; Microsoft sold an average of 0.67 million licenses per day for Windows 7.
According to Microsoft's Brandon LeBlanc, who cited Reller's comments, Windows 8 is outpacing Windows 7 in terms of upgrades.
While that's impressive, it can also be partially accounted for by the increase in the total number of PCs in the market: At the end of 2009, when Windows 7 launched, the global installed base of PCs was estimated to be 1.25 billion PC. From the available data, that figure has remained relatively static, as older PCs have been scrapped, but a smaller amount has been sold. In 2011, Gartner estimated the 2010 installed PC base at 1.4 billion units, increasing to 2.3 billion by 2015. (Since then, however, analyst firms have also increasingly begun to lump Windows Phone and Windows 7 and 8 devices together, reflecting the rise of tablets and smartphones as full-fledged computing devices.)
Nowhere To Go But Up?
Ballmer's "modest" comment reportedly applied only to sales of Microsoft's Surface tablet – and the company said it applied only to Surface with Windows RT sales in the United States and Canada, at that.
But maybe there's another comment that we should be paying attention to.
"We see nothing but a sea of upside!" Ballmer said in response to one of the shareholders at the company's shareholder meeting on Wednesday. While that's usually an optimistic statement, it could also reflect a new reality: with Windows 8, Microsoft is at the bottom, and looking up.
But here's the real bottom line: until Microsoft reports actual sales numbers in January during its quarterly report, we just don't know.
Bonus Data: How Folks Are Using Windows 8
Microsoft has also shared some usage data about how Windows 8 is used on the first day: More than 90% of customers use the charms – like Search and Share; more than 85% launch the desktop; and half visit the Windows Store.