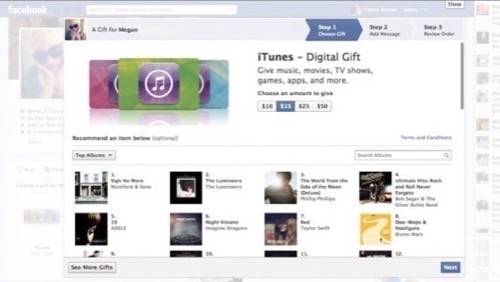 Looking for a perfect holiday gift for that special someone? Well, you might be in an ever-shrinking minority – the rest of us will just be swapping virtual presents on Facebook.
On Monday, Facebook added Apple's iTunes store to its virtual gifting catalog. Facebook's foray into holiday e-commerce is so aggressive that it's actually placed the "Gifts" button next to some of the social site's primest real estate. Navigate to any friend's Facebook page and you'll find the option right in the box where you're probably used to sharing links or text.
To send iTunes credit as a gift, you'll be prompted to select a gift card loaded with $10, $15, $25 or $50 worth of Apple's virtual media. Before entering your payment info, you can then select an e-card to pair with the loot, and enter a hand-typed message if you want to get really personal with this year's e-gifting. If you're at a loss, the iTunes gifting interface also includes suggestions from the iTunes store's most popular selections in any category.
Apple's one-stop media shop is well-stocked, so lazy holiday shoppers should be spoiled for choice. As of September, the iTunes Store boasted more than 26 million songs, 190,000 TV episodes, 45,000 movies and 700,000 apps. The Apple Facebook Gifts partnership is the newest high-profile addition to Facebook's virtual gifting empire, which already promotes Starbucks and popular discount design shop Fab.com.
According to Facebook, mentions of holiday shopping-adjacent words are up 160% from last month – and considering that was before Black Friday and Cyber Monday, we can only imagine that Facebook chatter about e-gifting is at a fever pitch.