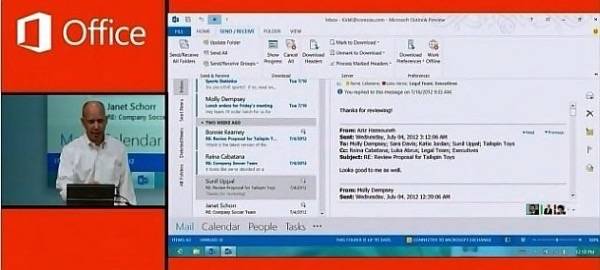 For the first time this fall, consumers will have the choice between subscribing to Microsoft Office as a service – Office 365 – or buying a traditional license for the productivity software. The decision isn't simple: you'll pay less upfront for a subscription, but you may be allowing Microsoft's hand in your pocket for the rest of your days.
Consumers who want to upgrade their Microsoft Office software this fall have to ask themselves a hard question: "Do I want to subscribe to Office like I would a magazine – or continue to buy it like a book?"
If you want to subscribe, Microsoft is more than willing to help you out. For the first time, consumers will be able to buy an Office 365 subscription, paying for either a home or small business edition of Office for a one-time annual fee that covers five PCs or Macs. And you could end up paying just $1.66 per device per month for a continually updated piece of software.
If at any point down the road you decide not to pay anymore, however, Office goes away. And for the customer who's not all that convinced that Microsoft offers compelling reasons to upgrade from generation to generation of Office, that might be the best bet. Instead, you can buy the traditional "packaged" copy of Office, trading a higher up-front price for a perpetual license.
And, this time around, there's a third aoption: if you buy a Windows RT tablet, Microsoft will throw in the core Office apps – Word, PowerPoint, Excel and the oft-overlooked OneNote – for free.
It's a decision that consumers should start thinking about, with the launch of Windows 8 due in a month's time. Microsoft hasn't said when the final version Office will be available, but users can download the preview version from Microsoft's website.
The Pricing Puzzle
Microsoft is offering three versions of the traditional Office suite: Home & Student ($139.99), Home & Business ($219.99), and Professional ($399.99). Each version can be licensed by either one Mac or PC, forever, except for the Professional version. That's PC-only.
On Office 365, Microsoft is offering two versions: Home Premium ($99.99 per household per year) and Small Business Premium ($149.99 per user per year). Note the italicized terms, as they're significant. Each household that buys Office 365 Home Premium can install it on some combination of 5 Macs and PCs – that's where the $1.66 per month per device figure is taken from. Small businesses pay by user – that's just under $300 per year for two, and on up from there.
The average consumer, then, will probably choose between either Office Home & Student, Office Home & Business and the Office 365 Home Premium subscription.
To Wes Miller, who covers Office for Directions on Microsoft, consumers will have to ask themselves three questions:
How often do you upgrade your version of Office?
How many machines will you buy it on?
And will you buy a Windows RT machine?
For enterprises, these aren't trivial questions; Directions holds a two-day "boot camp" on Microsoft's Software Assurance, which provides many of the same benefits as Office 365, including automatic, free version upgrades and multiple languages.
For a single user with a single PC, the answer is pretty simple: unless you want that quick-and-easy upgrade path that Office 365 offers, choosing between Office Home & Student and Home & Business is the only decision necessary. Basically, the difference is Outlook: Home & Business has it, Home & Student doesn't. If Outlook is worth an additional $80, you're done.
Adding more devices to the mix, plus Office 365, complicates things. On the other end of the spectrum, a household with five Macs and PCs (and that needs Office on all of them) will pay about a total of $700 for Office Home & Student installed on all five devices. That's $200 more than a five-year Office 365 Home Premium license, which covers those five PCs. Here, Office 365 is probably the way to go, from a financial sense.
If you're somewhat in the middle – with three devices, say – features may help sway your decision. Three office Home & Student licenses will cost about $420, a little more than a four-year Office Premium license. Three Office Home & Business installations will cost you $660.
And why is that $660 figure important? Because Office 365 gives you Outlook and Publisher and Access for free. Microsoft is so eager to push you toward subscriptions that it is pricing them more cheaply than the Home and Business version, and tossing in the two extra applications on top of that. Again, that's Microsoft pushing you toward the subscription model.
Office 365 also offers a number of conveniences, including "Office on Demand," or the ability to stream a virtual version of Office to a PC you're borrowing or don't actually own. And documents are automatically saved to Microsoft's cloud storage, SkyDrive, which you can also access on virtually any Internet-connected device, including mobile phones. For that matter, Office 365 will eventually land on mobile devices as well, although Microsoft hasn't said when.
What Do Subscriptions Mean for Microsoft?
Why is Microsoft pushing subscriptions? Wall Street.
"We're seeing all signs pointing toward Microsoft's subscriptions not only trying to look but be more appealing outright to consumers than buying an outright software package," Directions on Microsoft's Miller said.
Instead of the spike-then-decline, spike-then-decline buying patterns that accompany new product launches, a recurring revenue model offers Microsoft a more consistent revenue stream. More importantly, it also gently reinforces the notion of paying for Office as a service, Miller said, rather than as a product, ingraining the habit among consumers.
"It makes for nice, flat-to-gaining revenue year over year, recurring, and it makes the business run more efficiently," Miller said. "It's definitely in Microsoft's best interest."
That's different of course, from the question of whether it's in your best interest.
For Microsoft though, its critical to find out how many people will sign on to the new Office 365 model, and how many will still want the comfort of a perpetual license to avoid having to keep shelling out for Office – albeit with the latest upgrades – for the rest of their lives. A user who may have been turned off by the new "ribbon" design, for example, may prefer to hold on to his older copy of Office and just use that. According to Miller, Office 2013 is one of the more compelling upgrades, with integrated SkyDrive backups as one of the killer features of the software.
In fact, look to the number of Office 365 subscriptions being one of the questions that will interest Wall Street most in the quarters following the product's launch. For along with magazine subscriptions, cell phone contracts, antimalware licenses and hosted storage, more and more companies are trying to convince you to pay them regularly, and forever for all kinds of software. Microsoft just wants in on the gravy train.