Most people wont' get their hands on an iPhone 5 until later this week, but the early reviews are in. Most critics are enamored with Apple's latest smartphone: It's faster, thinner, taller and, even though the camera isn't a huge upgrade, it's still an improvement. But one new feature isn't getting much love: the native mapping application in iOS 6.
Apple made headlines earlier this year when it was confirmed that Google Maps would no longer be the default app for mapping and navigation on iOS devices. That years-old partnership crumbled amid rising tensions between the two companies, mostly due to Google's entry into the smartphone market. To fill in the gap, Apple acquired C3 Technologies, a company that specialized in building 3D mapping software. At its Worldwide Developers Conference last summer, Apple showed off the slick, immersive result.
While many agree that the user interface of Apple's Maps is an improvement over its predecessor, not everyone is thrilled with the overall experience.
Writes Tim Stevens on Engadget:
The biggest drawback is the unfortunate lack of public transportation directions. If you haven't quite mastered New York City's subway system, you won't get any help from your iPhone 5. Curiously, the app offers to give you public transportation directions, but should you choose that option it pops you straight into the App Store with a search for "Routing Apps." Right now, there are zero results.
That's odd. We figured Apple would partner with third-party transit app developers and at least link directly to those providers. (The lack of search results sounds like a glitch Apple will soon fix.) That would be a big win for those developers and would help keep the user experience intact.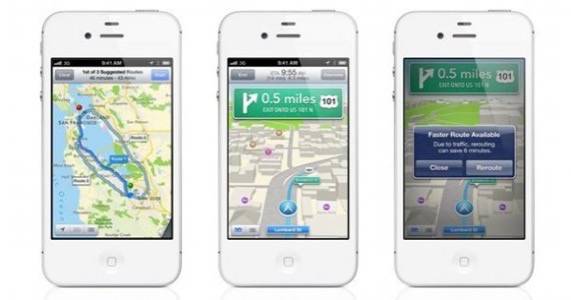 Another widely cited issue with Maps is that it's not as comprehensive as Google's offering. As Stevens explains, "Maps will list some important POIs – mostly gas stations and convenience shops – but if you want to see all Mexican restaurants on your route you'll have to dig deeper."
In his lengthy iPhone 5 review for AllThingsD, Walt Mossberg says Maps is the "biggest drawback" he experienced while test-driving the new iPhone, citing the lack of transit directions and the loss of Google's photographic imagery. Granted, this is a software feature (and thus easier to address than a cruddy camera or underperforming processor), but Maps is used very heavily by many users, so its substandard performance affects a broad swath of the iPhone community. Even the typically Apple-friendly MG Siegler wrote that, while he was impressed by Maps overall, it's still not as good as Google's app.
Most critics of the new app have been understanding, given the complexity of providing a mapping solution, Apple's business need for booting Google and the fact that it's a brand new program with many iterations down the road.
Anil Dash was less forgiving. Calling the Maps upgrade "pretty but dumb," Dash called Apple out for replacing a widely-used feature with something less polished and comprehensive. Having used iOS 6 for a few months, Dash put the app through its paces and found that the traffic directions and venue search capabilities fell short.
Apple clearly has improvements to make in Maps, but it does look like a fairly solid offering overall. The lack of transit directions is unfortunate for any city dweller, but third-party apps are often better than what Google provided. In my own testing, I found the UI of Maps to be hugely improved, especially the way that driving directions are displayed. It's not only nicer to look at, but it's also probably safer for drivers to use, particularly when combined with the iPhone's hands-free, turn-by-turn navigation.
It may not seem like a worthy successor to Google Maps, but it's viable and presumably Apple is working on improvements. And who knows? Perhaps Google is working on its own Maps app for iPhone, just as it did with YouTube. If paying customers are as dissatisfied as some of the early reviewers, it wouldn't be surprising for Google to capitalize on their discontent.