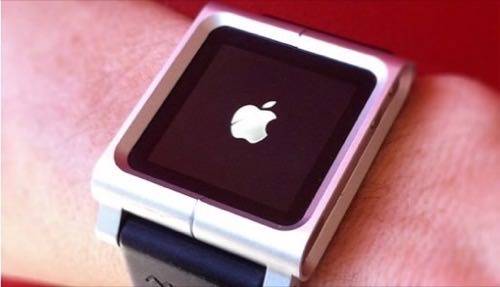 It's that time of year again. The Apple rumor mill is working overtime as customers await iOS 6 and the iPhone 5 in the fall, with a 7-inch iPad and long-anticipated HDTV set on the horizon. One purported iOS 6 feature could propel Apple into wearable computing in a very cool way.
Apple may be working on an "as-yet-undisclosed" feature that would let iOS 6 devices communicate via Bluetooth 4. One possible – and likely – use case is enabling an iPod Nano to control, and display messages and other data from, an iPhone or iPad. The Nano, of course, can be strapped to a user's wrist and worn like a watch, thanks to third party accessories.
"This opens up many possibilities for the wrist set," Seth Weintraub writes on 9to5Mac. "For instance, you could make a call on your iPad or Mac through the iPod nano watch as mentioned."
An iPod Nano conversant in iPhone-speak wouldn't be the only example of a smartphone-linked wrist watch. Sony's SmartWatch is just one of several Android-powered watches that communicates with smartphones via Bluetooth. They all have their functional downsides and, while they are cool, they don't do anything for the millions of iOS users out there. The concept of an iPod Nano watch, which Apple has endorsed semi-officially by releasing 17 new watch face designs last year, is a great start. Apple could polish it to a higher sheen by releasing its own branded smartwatch product. However, there's no indication that such plans are in the works.
A networked iPod Nano plus iPhone would be a notable step forward for iOS users. Strapping the network to the wrist integrates mobile technology more deeply into everyday life. It may seem like a subtle shift, but not having to remove your phones from your pocket to complete certain tasks makes mobile tech noticeably more seamless. It's also a step toward a future in which the line between people and their computers is further blurred.
There's little doubt that this is where we're headed. Google's Android-powered, augmented-reality glasses will be available to consumers in 2014. Apple has patented similar technology. How long until we're wearing smart, networked contact lenses?
That futuristic reality may be a few years away, but in the meantime, how cool would it be to access mobile data and communications from your wrist, like a space-age Dick Tracey? If iOS 6 works as some observers anticipate, we'll find out soon.
Photo by Aaron Muszalski