A study on the usage of social media by the top MBA programs in the United States shows that while all are using Facebook for recruiting and marketing their programs, most of them don't do any ROI assessment of the social media tools they employ to bring in prospective students. Nor do most tap the potentially best resource: Just a few schools are using downloadable mobile apps, even though these are rated among the most effective tools studied.
Last year, we wrote about how undergraduate colleges are using social media. The same group from University of Massachusetts at Dartmouth's Center for Marketing Research, led by Dr. Nora Barnes, has recently taken a look at graduate MBA programs.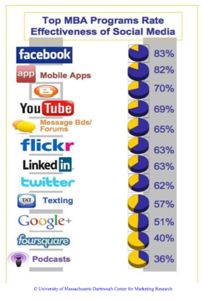 In phone interviews, Barnes and her researchers spoke to 70 of the top B-school directors or deans in charge of their programs. Missing were some of the top 10 schools, but the sample was still statistically valid over the more than 400 MBA programs across the U.S. Here are some of the interesting results:
All 70 schools are using Facebook, and most are also using Twitter and LinkedIn to market their programs. Three-quarters also maintain a blog. More than half of the schools use five or more social media tools. The Thunderbird School of Global Management in Glendale, Arizona is a real social media butterfly: They are using 14 different social media tools!
While only 16% of schools are using downloadable mobile apps, these are rated among the most effective tools studied. You can see the results in the chart above of the schools' judgment on effectiveness of each social network. Interestingly, LinkedIn – which might be thought to have the closest ties to career aspirations of any of the social media tools – isn't near the top.
The majority (65%) of schools don't track the number of perspective applicants who have found out about their programs through social media connections.
And perhaps most surprisingly, 94% report recruitment is the No. 1 goal of their social media efforts, yet the top measures of effectiveness do not include tracking prospective applicants. Instead, they are looking at the numbers of fans or followers, or other metrics such as page views or the number of comments.
Clearly, social media is in a state of transition for business schools. Many said they would increase their involvement or expand to additional social networks in the coming year, with a third planning to buy additional software and nearly as many investing in new training or new hires. Still, as the study states: "Being able to measure whether these prospects actually apply to the program is something schools may be looking to do, but have not yet mastered. Without this piece of information it is difficult to really assess the effectiveness of the social media plan and to know where future investments should be made."