Yesterday, we asked "Is Facebook poised to revolutionize health care?"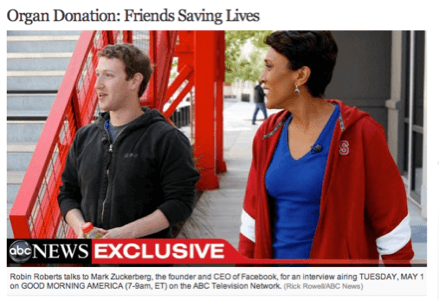 Today, we can answer: "Probably not."
In a nationally televised interview on "Good Morning America" on Tuesday, founder and CEO Mark Zuckerberg announced a new feature that will let people share their status as an organ donor with their friends. Later on Tuesday, Facebook COO Sheryl Sandberg will appear on "World News With Diane Sawyer" to discuss the new organ donation program.
"Recently, when tornadoes came through in Missouri, a lot people were using Facebook to return items [that were] lost. In Japan, people used Facebook to try to locate family members" after the 2011 tsunami, Zuckerberg said. "We looked at this and thought we could use Facebook to solve other kinds of problems."
According to Facebook, you can share your status as an organ donor and a story about where and when you decided to become an organ donor. The new program will link you to your state and national organ donor registry if you're not already listed.
ABC Presents One Side Of Organ Donation Story
By every definition, it is the "life-saving" initiative that Facebook was dropping hints about on Monday. And, given that ABC scored interviews with the top two executives of a company that will most likely be worth more than $100 billion by the end of the month, Robin Roberts' claim of a "big exclusive" at the top of the GMA broadcast this morning is accurate.
But the whole announcement, starting yesterday with leaks to the tech press, has a bit of a "So what?" quality to it. It seems more like a nice publicity stunt on the first day of the month when Facebook is expected to hold its initial public offering. It also seems like an overly positive embrace of Zuckerberg's insistence that we all get comfortable sharing as much information on Facebook as possible.
ABC didn't bother to line up any experts to talk about the ethics of organ donation. Indeed, the post-interview chatter between Roberts and her GMA co-hosts had an infomercial feel, with each gushing out a compliment about the power of Facebook and the brilliance of the initiative.
For many, organ donation is a deeply personal choice. For others, it isn't: I'm an organ donor, but I won't be posting when or why I decided to become one on my Timeline because I simply don't remember. (Most likely, it just seemed like a good thing to do when I renewed my license.) Putting it on Facebook, however, takes the conversation out of the realm of family and close friends and puts it into an area where there may be an peer-pressure element to it.
When Roberts asked him about it, Zuckerberg stayed on message, giving a refrain that is sounding familiar.
"They obviously don't need to participate," Zuckerberg said in response to the one hardball question in an interview that also touched on his friendship with Steve Jobs as well as his efforts to learn Mandarin Chinese. "But even if this doesn't touch everyone, I hope it can make a real impact."