Social reading site Findings.com won't disclose its number of users or rate of growth – but after just six months of going live, the site is bustling with far more snippets – or marginalia, as co-founder John Borthwick calls it. A recent redesign of the site focuses more heavily on the visual frontend, showcasing a user's library of titles and the opportunity to "refound" marginalia, which is just like a re-blog or a re-tweet. The more visually oriented frontend is both a pleasure to click through and peruse. The entire site is focused on books, and one can almost feel the thick text through the glass screen. Findings.com is marginalia, exposed. The future of reading is here.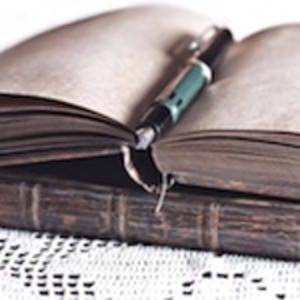 Much like Twitter or Tumblr, users on Findings.com can discover others who are reading similar books, and go right ahead and follow them.
As with any site that focuses on blurbs, however, there is a fear that the experience of reading is becoming less about actual comprehension and more about finding super-sharable text. Findings.com takes that problem into account.
"The vision of what we want to create with Findings.com is social reading, and we feel that it's just at the beginning of its existence," Borthwick says. "The experience of reading is changing, and the book as an object is fragmented into its component parts. It is shared and then reorganized with a different context – some of that is just about people surfing in and seeing a clip from a book, or wanting to identify themselves with it."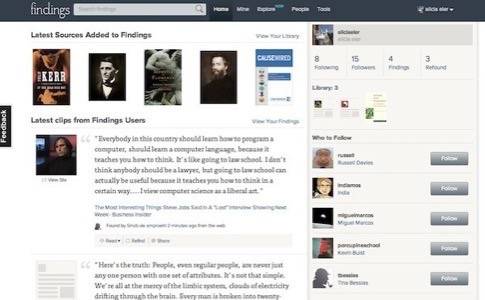 The identity piece is not a very meaningful interaction – but it could lead to a sort of following of the author. Of wanting to take a walk down the pathway of the author's mindscape.
"This very lightweight aspect of taking a quote and resharing it is only a piece of the puzzle," Borthwick says. "If that's all that social reading is about, then the social creation of books is the social reading of books."
Borthwick perused the site as we chatted, and found that nearly 70% of the marginalia – the bits of text clipped next to the book – came from e-books, and 30% came from articles around the Web.
The clips that come from an iPad are just seen as Web clips; any clips from Amazon Kindle clearly state "from Amazon Kindle." This is interesting, especially when one considers the fact that marginalia – those fascinating blurbs that seem to sum up an idea or concept in one fell swoop – can come from a longform essay, an e-book or anywhere around the Web.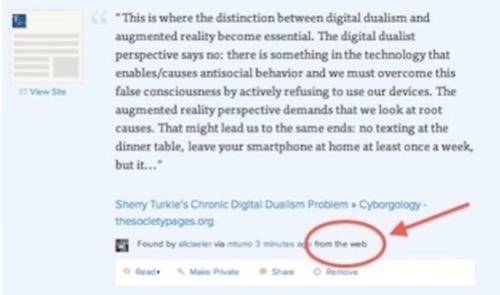 "We want people to explain why the marginalia they find is interesting," says John Borthwick, co-founder of BetaWorks, which owns Findings.com. "We want more curation around so that people can really make it something that's more personal."
Lead image via Shutterstock.com.