We figured it was only a matter of time before someone came up with a Klout-like service to measure how influential (or how inconsequential) you are on Pinterest. With a few clicks, PinClout measures how many followers you have, how many you follow and how many likes you have and gives you a score of one to 100.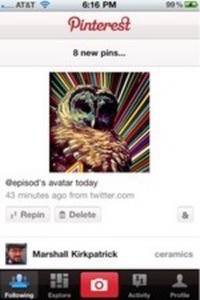 As noted by SpiderWorking's Amanda Webb, it's unclear how accurate of a measure PinClout is for the reach of your pinning (Webb and I, for instance, each scored 29 even though her numbers were higher than mine in seven of the eight categories PinClout tracks). But it is clear that "pinfluence" is growing in importance as fast as Pinterest is growing in popularity.
Pinterest is still, believe it or not, invite only, but current users have an unlimited number of invites to share with friends (or readers – email me if you want an invite). And while Pinterest has rules against outright corporate promotion, many companies are jumping on the site and finding ways to connect with customers and increase brand identity.
Influence is like that on any other social network: the more followers you have, the more likely your content is to be shared and the more likely it is to have a greater reach. And the number of followers, like the number of followers on Twitter, is a rough formula combining fame and popularity with quality of content.
Making yourself more famous is a hard thing to teach in a blog post. It usually involves talent, scandal or a really good public relations firm. But quality content is something you can control. Some of the most interesting and innovative uses of Pinterest are coming from real estate agents who, according to Lani Rosales, need to do more than just share pictures of houses to increase their reach on Pinterest.
Rosales, who was an early adopter of Pinterest, said she has noticed that ideas are more frequently shared than just images since she first signed up. "The population of Pinterest is booming and it isn't like other social networks where people get a profile and chat, there is actually something to do and boy, do people do it," she wrote.
While many of her recommendations for boosting influence are specific to her industry (pin photos of all the schools in the area where you do business), many can be adapted to other industries (client thank-you boards, pictures of ideas on how to use a company's service). Rosales stresses that users need to have fun to stand out on a site that doesn't offer much in terms of profile personaliztion outside of shared content, and that "silly is good."
"Entertaining is more memorable and less sales-y and dropping the sales pitch will get you a lot further here. When entertaining is not appropriate, be conversational," she said. "And like any social network, it is best to remember to comment on other people's pins and boards and share their content as well – it's easily overlooked common sense."