A new report out from Sitel on social media and consumer trends implies that social media is key to reaching Gen Y (those born between 1980 and 2000), but the numbers don't add up. While the Gen Y, or people born between 1980-2000, are in fact "digital natives," that doesn't mean they are actually most reachable via social media marketing.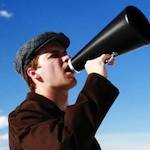 When looking at which types of decisions influence purchase decisions for electronics, 46.9% of Gen Y's are most influenced by in-store promotions, 44.3% by word-of-mouth marketing and 39.8% by Internet advertising.
Only 28.7% were influenced by social media, which makes sense given the fact that you are what you're more likely to be what you "like" on Facebook, not "what your friends like."
When it comes to what types of media influence purchases of apparel/clothing and grocery, social media still comes in dead last not only for Gen Y's, but for Gen X's and Boomers, too.
New research from Ericsson echoes the fact that while teens today are definitely digital natives, they still prefer face-to-face communication over digital means like texting and Facebook.