Just in the last year, we've seen a rapid rise in adoption of open source scale-out software – a category that enables enterprises to pool together whatever resources they have, and add later whatever they happen to acquire. We'll hear a lot more about this category as the Fall OpenStack conference launches tomorrow in Boston. Today, as Oracle's Open World conference winds down on the other coast, Red Hat made a significant bet that it, too, could provide out-of-the-box functionality, with software that installs so easily that Oracle's all-in-one bundling advantage is minimized.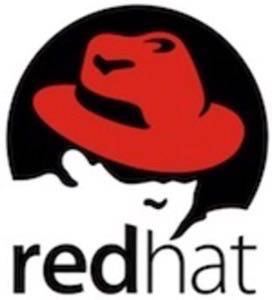 For $126 million in cash – so little that its CFO predicts no material impact on its bottom line or its financial guidance for the year – Red Hat has acquired Gluster (not "Gloucester"), the maker of an open source scale-out software system for pooling multiple disk drives together with public cloud storage nodes, together as single network-attached storage volumes.

"Gluster is a file-based scale-out NAS platform that is open source and software only," reads a recent Gluster white paper (available from this page). It allows enterprises to combine large numbers of commodity storage and compute resources into a high performance, virtualized and centrally managed pool. Both capacity and performance can scale independently on demand, from a few terabytes to multiple petabytes, using both on-premise commodity hardware and public cloud storage infrastructure. By combining commodity economics with a scale-out approach, customers can achieve radically better price and performance, in an easy-to-manage solution that can be configured for the most demanding workloads."
During a joint press conference today, Gluster's CTO and Red Hat's newest engineer, A. B. Periasamy, expressed genuine astonishment not only at his six-year-old venture has found its footing, but also the earnestness of its growing customer base – which he learned the other day, almost by accident, included Pandora. "Clearly we are seeing ourselves playing an important role in the cloud virtualization space," Periasamy said.
"The use case for Gluster is very simple," he went on. "It's basically storing lots of files. This problem became very critical only in the last five years. A hundred terabytes is peanuts today. One petabyte has become a very common use case; when we started, it used to be big."
Gluster's software attacks the deficiencies of existing network-pooled architectures head on. One is the problem of one-dimensionality: Simply virtualizing larger amounts of space under the control of the same amount of processing power, introduces latencies that weren't present before. Add to that the fact that greater storage pools require greater caches and larger units of metadata, and enterprises come close to discovering that overall performance starts to decrease as capacity increases. So Gluster ensures that linearly scaled-up pools have the processor power and database capacity to maintain performance improvements in direct proportion to pool size.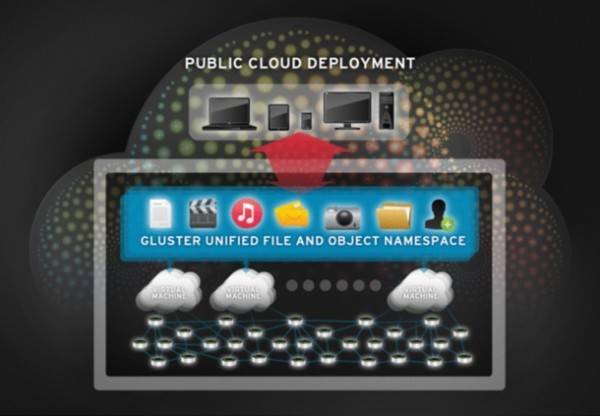 The other critical deficiency concerns file systems, which also appear to be scaling up linearly, and fast. Gluster creates an abstraction for file systems by way of its Unified File and Object Storage system.
As Red Hat CTO Brian Stevens told analysts this afternoon, "Some of the advanced capability that's in the roadmap for Gluster… is as a storage backplane for virtualization as well, both for VMware as well as for KVM. Some of the critical things we need to be a storage backplane, most importantly: If you're a storage solution for virtual machines, hopefully that's not the only thing that you do well. I would hate to think that, years from now, IT [would be] deploying specialized file systems just for virtual machines. That's where the industry's at today, and that's broken. So what these guys [Gluster] are innovating around is a general-purpose storage solution for unstructured data, but that also will have all the right properties for storing virtual machines, clones of virtual machines, storage migration, independently of the hypervisor layer."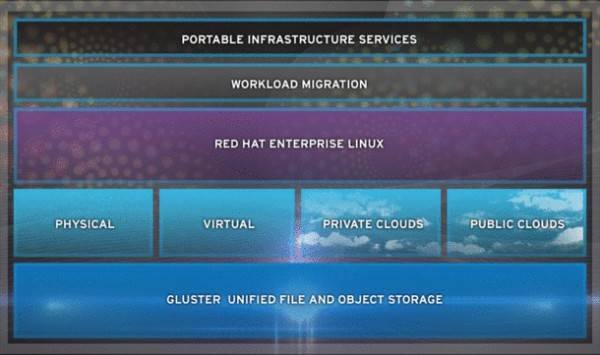 Gluster's current software supports Red Hat Enterprise Linux versions 5.x and 6.x, said Periasamy, with greater deployment numbers for 5.x at the moment. He noted that version 6 offers substantial improvements in the storage and virtualization layers, and encouraged customers to move to 6.1 (released last May) as soon as possible. It's made available under the GNU Affero Public License, which mandates that downstream innovators contribute back to the project. Gluster will continue to contribute, now through Red Hat, to the Open Virtualization Alliance as well as to OpenStack. Red Hat joined the OVA – the principal backer of the KVM kernel – just last month.