The open source PostgreSQL project just got more manageable, with an announcement today from EnterpriseDB and its Postgres Enterprise Manager. This allows developers and DBA's to monitor and manage both PostgreSQL (from v8.3 or later) and Postgres Plus Advanced Server installations regardless of the platform they run on from a single graphical console application. The management software runs on either Windows or Linux clients, and a Web-based version is also in the works.

As befitting an open source platform, there are plenty of other management tools out there to work with Postgres. What makes the EnterpriseDB tool different is that it is easy to install and use, especially for handling a large number of installed database servers and with a nice graphical look and feel, as you can see here. (Click to enlarge.)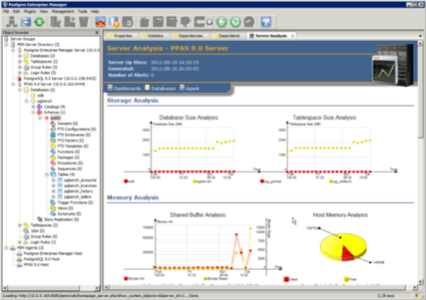 Postgres Enterprise Manager includes the following enterprise-class enhancements:
Performance Monitoring Dashboards. Show at-a-glance information on I/O, storage, memory, user and session activity, wait statistics and more, as you can see above.
Alert Management. Pre-defined and custom alerts warn the user when issues or potential issues are detected.
SQL Profiler – Allows users to pinpoint, diagnose and fix poorly performing SQL code and trace SQL statements that are executed against one or more servers, as you can see below (click to enlarge).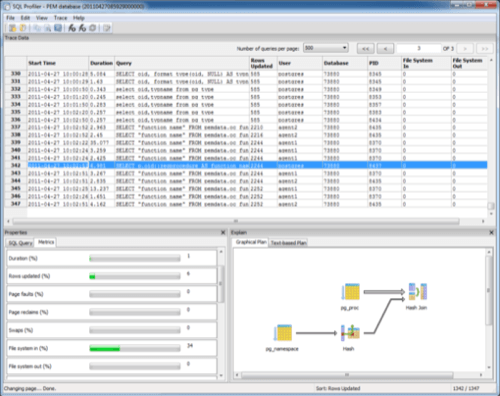 Postgres Expert.A "DBA-in-a-Box" helps enforce PostgreSQL best practices with expert suggestions for schema design, security, configuration parameters, and more.
Capacity Planning and Forecasting. Capacity Manager allows reporting and provides trend analysis over time to understand peak load periods, storage consumption trends and gives the ability to customize reports including both graphs and tabular data.
All new Postgres Plus subscriptions will include the Enteprise Manager software, and existing users can download the software today at no additional charge. Or a separate subscription for the management software can be purchased for $1995 per socket. There is also a $495 fee for an annual one-server instance license if you want to start out small.
Some of the biggest users of Postgres are Skype, Yahoo and MySpace. More information can be found on Enterprise DB's site.