Twitter has just announced the rollout of user galleries for tweeted images. Galleries will show images shared using all the major services supported by Twitter, including yFrog, TwitPic, Instagram and Twitter's new native images. Galleries can be found on the user's profile page through the Web interface. They will display up to 100 recent images in chronological order. They won't display video, nor will they show images tweeted before January 1, 2010.

Twitter profile pages will now display thumbnails of the user's four most recent tweeted photos on the right sidebar, right under their vital Twitter statistics, and clicking 'View All' opens the user's gallery in the current window. This is the first new feature Twitter has built upon its native image sharing, which launched this summer. Until that launch, third-party services handled image sharing on Twitter. The new user galleries will support those services, but the galleries themselves will only be available from Twitter's website.
As we have discussed in the past, considering Twitter's need to monetize, bringing multimedia in-house and attracting more users to the website, rather than third-party clients, could be key to Twitter's future business plans.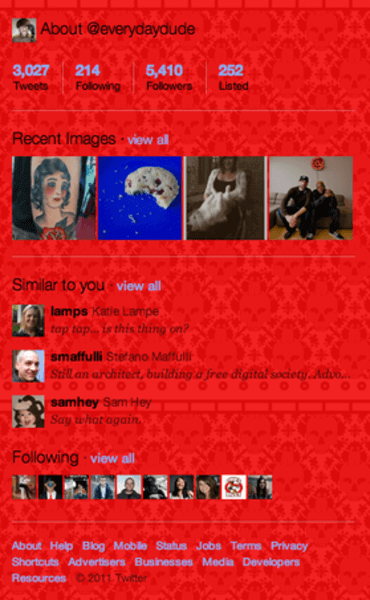 This isn't a full-fledged image gallery feature; it won't replace major photo services that offer higher-quality images and better organization. But photos shared on Twitter are often more informal than that, and the existing third-party photo services, while they do show users' image history, don't offer many features for meticulous organization, either. Twitter's image galleries will just be a way to quickly browse the photos someone has shared, and that's a nice feature, as long as you're not certain members of the U.S. Congress.
Would you browse a user's photos on Twitter? Tell us what you think in the comments.