Most people were extremely grateful to ditch their old dial-up Internet connections. But for the last couple of days, some Egyptians in the darkness of the Internet blackout, have been grateful to have it back. After over 90% of Egyptian access was shut down with its major ISPs, some have been coordinating these old-style connections through the country.
Manal and Alaa, an Egyptian couple currently living in South Africa, and Jacob Appelbaum, and American hacker associated with Wikileaks, have both contributed to the establishment and promotion of dial-upconnections in Egypt during the #jan25 uprising.
Dial-up is not the only avenue for those who cannot access the remaining, functional ISP in Egypt, Noor.
In fact, all legacy tech seems increasingly important as the latest in communications technologies prove themselves more vulnerable than most of us would have liked to have believed and none of us should have been surprised to see.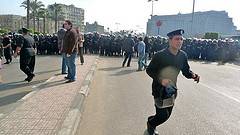 Ham radio users are busy transforming from (sorry, folks) eccentric anachronism to vital link in the export of Egyptian information.
The old-fashioned phone has proven extremely valuable, as well, though both mobile and land lines have been up and down over the last few days. There is a Twitter account, Jan25 Voices, that exists solely to tweet news that comes in to contributors by phone.
Very few Egyptians and others in country are able to reach out via Twitter and similar tools. Some of the exceptions, such as Ben Wedeman from CNN and Sarah El Sirgany of Daily News Egypt, have satellite and other workarounds in place.
In fact, a situation like this almost insists that traditional journalists prove that far from being replaced by technology, they are its guarantor. In addition to Wedeman and El Sirgany, Qatar-based Al Jazeera is presenting extensive on-the-ground coverage.
If you know of other, or more, ways and resources people inside Egypt are using to stay connected to loved ones, friends and the public outside the country, please let us know in the comments. If you know other in-country reporters, please list those as well.
Updates
Josh Mull has provided this list of Egyptians tweeting in-country.
An additional source for dial-up numbers is the We are all Khaled Said Facebook page, where visitors are posting them on the wall.
To keep up with the latest dialup numbers on offer for Egypt, consult this Twitter search feed.
Photos from Al Jazeera English's Flickr photostream | other sources: Foreign Policy