I admit, I'm not terribly organized or efficient when it comes to tracking business expenses. Of course, as a technology journalist and a freelance writer, those expenses aren't particularly frequent or substantial. But I still struggle.
Mobile phone apps make this process much easier, as you can record your receipts and track your expenses on-the-go. as they occur. I thought I was a genius when I realized I could just snap a picture of a receipt on my iPhone and store it in Evernote. And while that eliminates carrying an envelopes full of receipts when I travel, that process only fulfills part of what's necessary in tracking business expenses and creating expense reports.

So here are a few suggestions for other iPhone apps that can aid in the process:
Receipts
The aptly named Receipts lets you create accounts and categories, and has 5 different types of custom receipt fields for local taxes, payment information, and mileage. You can add multiple photos and even record a voice memo. The app also has a graphing component so you can monitor expenses. Reports can be generated via email, and the app has Evernote and Google Docs integration as well. ($7.99)
Expensify
Expensify can link to your credit card account and import your purchase history. The app will generate IRS-ready receipts for expenses under $75. The app syncs with the Expensify website. (Free)
ProOnGo Expense with Receipt Reader
ProOnGo Expense tracks receipts and details, and you can export your information to QuickBooks or Excel. The Receipt Reader fills out an expense report for you, based on information from a photo of a receipt. (Free)
Shoeboxed Receipt Tracker and Receipt Reader
Ah, the shoebox – after the envelope it is the go-to storage device for many receipts. Shoeboxed provides a paid service where you can mail in your receipts for the company to digitize and organize your information. The Shoeboxed Receipt Tracker doesn't require a Shoeboxed account, but does use photos of your receipts to create expense reports that can be exported into QuickBooks and Excel. (Free)
Fresh Xpense Capture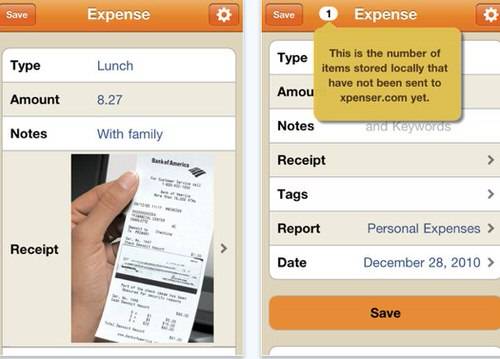 Fresh Xpense Capture takes photos of your receipts and sends them to the Xpenser.com website, where you can generate your reports. (Free)
Do you have a favorite mobile expense report app? (Or perhaps, a better system for tracking receipts and generating reports?) We'd love to hear your suggestions in the comments.
Photo credits: Flickr user Jamie