The Q&A site Quora has been blowing up with new users for the last few weeks, initially thanks to some much-due love from Robert Scoble, and then by growing enthusiasm for the site among the tech press.
While tech writers, VC's and geeky enthusiasts of all stripes have an obvious, immediate use for the site, it may not be as clear how owners of small and medium-sized businesses can take advantage of Quora and Q&A sites in general.
It's worth noting that Quora is not the only player here. The Q&A space has been heating up for awhile, with Google acquiring Aardvark and a slew of other offerings from the likes of Yahoo, LinkedIn, and Mahalo. As we wrote about previously on ReadWriteBiz, there's a rather useful Q&A site called Focus.com that is intended specifically for SMBs. Most of what we review here applies to these and other Q&A sites as well as Quora.
Sifting through the burgeoning content on Quora can seem overwhelming at first, but once you figure out what you're looking for, it's pretty easy to find your way around. For visitors who plan on using the site on a regular basis, the experience will be heavily influenced by the types of people and topics that you follow. For those looking for quickie answers, the search box at the top of the site will scan thousands of questions posed on the site.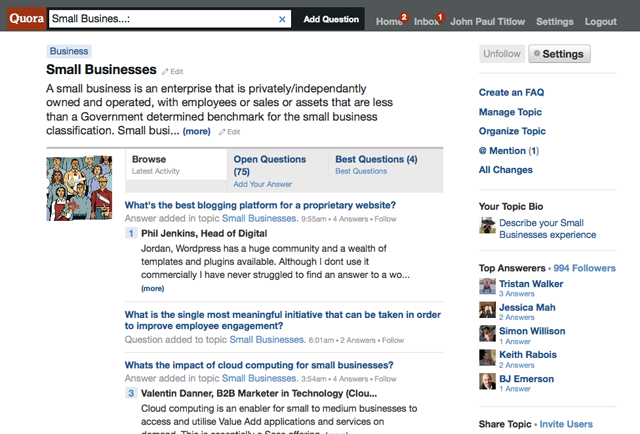 Market Research and Competitive Analysis
Depending on your industry, the user base of Quora may already include colleagues and competitors. Following the right people in your industry or people who are otherwise experts in it can be hugely educational for any small business owner. Doing so may give you answers to business-related questions you didn't even realize you had. There are already very busy pages for topics like Small Businesses and Small Business Advice, which are great places to start.
Checking up on what kinds of questions a competitor is following, or better, the answers they're giving, can tip you off to what they might have in the pipeline. Sneaky as it may seem, hey, it's happening on the public Internet.
High-Quality Answers
One of the more valuable features of Quora is its community of users. Because it's hot in the Silicon Valley and tech scene in general, the site is frequented by a ton of really smart people, including journalists, entrepreneurs, business owners and people who work at giants like Google, Facebook and the like.
For example, somebody on Quora asked the question, "How has Foursquare reached local businesses?" The question has a lot of really great, thoughtful responses, one of which is from Tristan Walker, Foursquare's Director of Business Development. Who better to answer that question than the person who's job it is to know that information? There are countless examples like this throughout the site.
Solving Specific Problems
While passively following a bunch of smart people and interesting topics can be highly beneficial, sometimes you just need an answer to a very specific question. Like, now. If you run into a problem or question in your day-to-day work, especially if it's technology-oriented, asking the question on Quora can yield very helpful answers.
For example, while working at my day job one day, I ran into a very specific issue while trying to build a Google Map from an extraordinarily large data set. After some initial searching and asking around, my team decided to pose the question on Quora. Within a few hours, we had some excellent, actionable suggestions, one of which worked. Problem solved!
If you run into a seemingly obscure, bizarre issue at work, it's likely you're not the only one. Quora and Q&A sites generally are just another tool that can connect you with people who have had the same problems and curiosities you have.
It's Not an End-All, Be-All
Q&A sites are not going to solve all of your pressing business problems overnight, but they are one especially useful tool in a belt that may include your online social networks, real-world colleagues and the good, old-fashioned Google (or Bing) search box.
It remains to be seen how well Quora will scale, as it only recently started picking up steam. For the time being, there is no shortage of unanswered questions to sift through, and that can get frustrating if it's a question you asked or are following.
Have you been getting inundated with those "So-and-so is following you on Quora" emails too? How have you used the service so far?