High-resolution 3D printing crept further into reach for small businesses this morning when Z Corporation announced two new models of its ZPrinter line of 3D printers.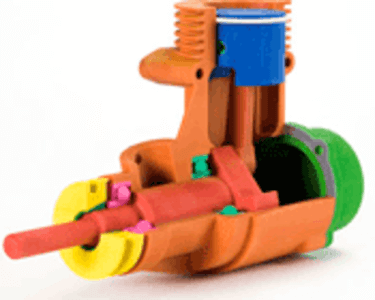 The ZPrinter 150 and 250 models, priced at $14,900 and $24,900 respectively, are being touted by the company as an ideal solution for classrooms and small businesses.
3D printing has been used for years by large firms, medical professionals and governments to quickly create 3D prototypes of product designs, human body parts, architectural models and just about anything else that can be imagined and drawn up using CAD software. It's only in recent years that the printers have begun to drop in price to the point where they can fit within the budget of smaller companies.
Two years ago, the world was promised a $5,000 desktop 3D printer by a company called Desktop Factory, but their product never made it to market and the company sold its assets to an unknown buyer in 2009.
Standing slightly larger than a standard office copy machine, the more affordable ZPrinter 150 prints in monochrome. Those looking to print 3D models in full color will have to shell out an extra $10,000 for the ZPrinter 250. While not the cheapest 3D printers on the market, they boast a higher resolution than most low-end printers and promises a lower operating cost.
Inexpensive 3D printing can enable small and medium-sized businesses to quickly and cheaply build real-world prototypes of even somewhat intricate product designs. Being able to do this repeatedly and on-the-fly can make product design a smoother and more iterative process for companies. As this technology continues to improve in quality and decrease in cost, one can only imagine the types of applications we'll see down the road.