SlideShare, the popular service for sharing presentations, just announced a major update to its platform. Starting today, SlideShare users will be able to upload videos of their presentations, screencasts and other business-related video content. Thanks to SlideShare's LinkedIn app, LinkedIn's users will now also be able to share video on the popular social networking site for professionals.

Adding Video: A Natural Progression for SlideShare
Adding video feels like a natural move for SlideShare. After all, more and more business content is already moving towards video and adding video adds an extra dimension to a presentation that a basic set of PowerPoint slides simply can't convey. As SlideShare's CEO Ramshi Sinha told us earlier this week, the company is mostly targeting marketers, teachers, doctors and other professionals with this new service. Currently, there are only a handful of dedicated video sharing services for professionals and platforms like YouTube don't really lend themselves for targeting the audience that many of SlideShare's users are trying to reach.
The video pages look almost exactly like regular SlideShare pages. The only real difference is that these pages now display a video instead of basic PowerPoint or Keynote slides. SlideShare uses can embed these videos on their own sites.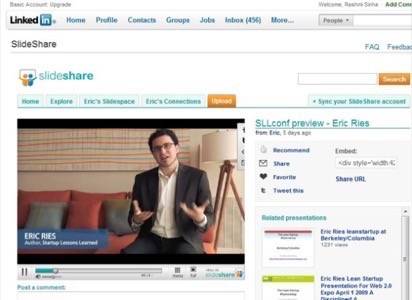 The closest competitor to SlideShare's new offering is probably BrainShark's free MyBrainshark service, which also allows professionals to sell their presentations. SlideShare's big advantage, however, is that is already has a large user base. Indeed, as Sinha told us today, the service now reaches close to 30 million unique visitors per month (including sites that embed SlideShare content).
Upload Limit: 500 Megabytes per Video
For now, SlideShare is officially calling this new video service a beta product. The company plans to gather feedback over the next two to three month and then iterate on the current version. The upload limit is currently 500 megabytes and uses can upload up to 5 videos per month.
SLLconf preview – Eric RiesView more videos from Eric Ries.