Ever since Steve Jobs first announced iBooks for the iPad, pundits have been wondering about the future of the Kindle and similar e-book readers in the face of this new competition. Now that we actually have access to an iPad, we had a chance to take a closer look at both the iBooks and Amazon's Kindle for iPad apps. We are still waiting for the B&N iPad app, but both iBooks and iPad for Kindle already highlight the iPad's potential as an e-book reader.
iBooks
It doesn't come as a surprise that Apple managed to develop the prettier e-reader app. Switching from the iBooks store – which looks a lot like the App Store – to your bookshelf is done through a nifty animation. Newly downloaded books and samples smoothly slide into the bookshelf and thanks to a faux 3d look and a page-flip animation, the app itself mimics the look and feel of a book. When you click on a book in your shelf, it flips open and zoom to the page you left off.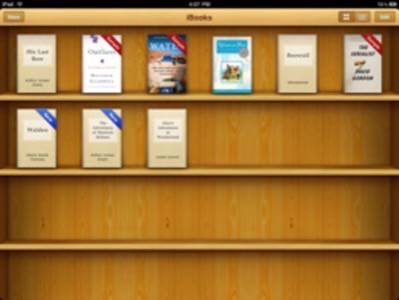 Flipping the iPad to landscape mode switches iBooks from displaying on page per screen to a more book-like two-page view. Given how wide the iPad's screen its, this makes it a lot easier to read as the individual lines are much shorter.
With regards to customization, iBooks allows its users to change the size of the font, but also the font itself (Baskerville, Cochin, Palatino, Times New Roman and Verdana). You can also set the screen brightness right from within any book, which is great for reading at night. As far as we can see, however, you can't switch to white text on a black background.
Another neat feature is the search function that feels a lot like Spotlight on OSX. This search feature is extremely fast – though sadly it only works for the book that you are currently reading. You can't search through all of your library, though you can initiate a Google and Wikipedia search from within any book (these open up Safari, however).
The iBooks app can also read DRM-free ePub texts. You simply download the e-book to your computer, drag it into iTunes and after your next sync, it will appear in iBooks.
iBooks Store
The iBooks store mostly features books between $9.99 and $14.99 (with a few outliers). There are currently about 30,000 free books in the store (courtesy of Project Gutenberg) and about 60,000 books from most major publishers – though there are still some holdouts. Every book in the store allows you to download a free sample (sometimes more than 50 pages long).
Kindle for iPad
Amazon, of course, offers a far larger store than Apple. With close to 450,000 paid and free books. It's worth noting that the Kindle store also launched with slightly more books (about 88,000).
Compared to iBooks, Kindle for iPad feels a bit more pedestrian, as it doesn't feature fancy animations. Pages just slide left and right and instead of two-page view when you flip the iPad to landscape mode, you just get a single page with a very wide layout. The Kindle app also doesn't allow users to customize the font of a book, though it does offer the standard screen brightness and font size settings.
Update: we originally reported that the iBooks app doesn't allow users to highlight text. We were wrong. Just select any part of the text in a book and select "bookmark." You can even change the color of these highlights. As far as we can see, there is no annotation feature in iBooks, though.
As with its other mobile apps, Amazon forces its readers to download apps from the Kindle online store. The only way to access this is through the browser. Here, Apple's ability to integrate the store into the e-reader application is a big plus.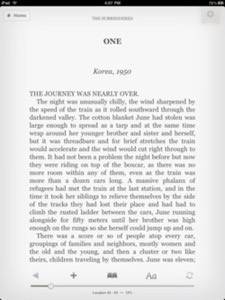 Verdict: iBooks is the Better App; Kindle is the Better Platform
In terms of functionality, the choice between the two apps depends on your needs. If you need to highlight and if you want to take notes, then the Kindle app is the only way to go. If you just want to read, the iBooks apps is just fine. Prices in both the iBooks and Kindle store are likely to be very similar – especially now that Amazon is slowly giving up on its idea of selling all e-books at $9.99.
The real advantage of the Kindle app is that you can read and sync books with more devices. You can start reading a book on the iPad at home or on the plane, for example, and then continue reading on your iPhone while you are waiting in line at the post office. Chances are that Apple will launch an iBooks app for the iPhone sooner or later, but until then, investing in Kindle books seems like a smarter decision as you don't lock yourself completely into Apple's smaller ecosystem.
More About the iPad Launch
Click here for our full archive of posts about the iPad launch.