You'd think the potential for new project management software had been exhausted. But then, you see something new like Projecturf. The company has aimed its sights squarely at small and medium-sized business, and its feature set is particularly well-suited to development teams.

With simple, elegant design, and a pricing plan comparable to Basecamp and other competitors, this new SaaS offering should capture a devoted following in no time.
Unlimited? Who Cares?
To date, most reviews and customer feedback on Projectruf have been wowed by the unlimited number of users and storage available all pricing levels of the software. But on comparison, promises of unlimited this or that are not exactly rare among project management solutions. What is fairly remarkable, especially for a new vendor who must be hungry for converts, is that they don't hold back any features in order to entice customers to upgrade.
Design Makes All The Difference
Projecturf is that it's extremely well-designed, especially when viewed alongside alternatives like Basecamp,
and
.
It's no surprise that Projecturf looks good. It was designed by Rareview Interactive, a Webby Award-winning design agency. There's ridiculously easy navigation, coherent layout of tasks and workflows, and full customization.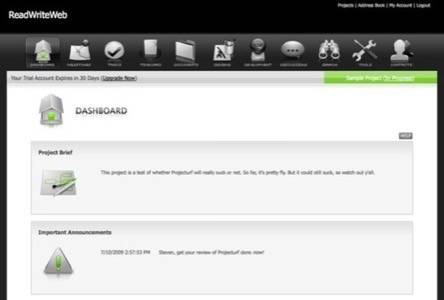 Not "Just Another" SaaS
Yet another new Web-based project management software package may seem underwhelming at first glance. But Projecturf is mature enough out of the box that it already is capable of competing with the stand-by solutions in the market.