The New York Times just released an interesting new online product that tries to recreate the experience of spreading out the newspaper on Sunday morning. The new 'article skimmer' gets back to the basics with a streamlined interface that lets you quickly scan the top headlines in every section of the Times. Basically, this is an experimental new interface for reading the Times online, though the links to the actual articles still take you to the standard NYT pages.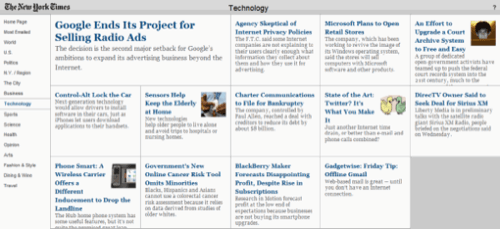 As Andre Behrens points out in the announcement, the Times is trying to recreate the skimming experience of the physical newspaper, where you often discover random articles that you would probably never notice in the online version.
The layout of the new online application is somewhat similar to that of the Times Reader desktop application, but the team is also trying out some new features. Older articles, for example, gradually fade out as they get older. The newest articles just have a white background.
Overall, the app feels very fluid and lightweight, and the article skimmer provides a great interface for browsing the site's content. It is just a shame that you can't actually read the articles in the same interface.
The New York Times has done a lot of interesting things on the web lately, including opening up an API that allows developers to search the newspaper's articles.
The newspaper business is clearly struggling to reinvent itself on the web, and this experiment is only a small step in this direction – but it is experiments like this that make it clear that there is still a lot of life left in the online newspaper business.
Disclosure: ReadWriteWeb has an existing syndication arrangement with The New York Times