Buried in Bob Iannucci's discussion at Supernova 2008 last week was this comment: "Connecting people only through voice communications is limited," the Nokia chief technical officer said.

To us, that sums up everything Nokia is doing, including today's announcement. Nokia, the world's largest handset manufacturer, is purchasing Plazes, the location-based social networking service based in Berlin.
Syndicated from last100, our digital lifestyle blog
Plazes, founded in 2005, lets people alert their friends about what they are doing and where they are — sort of Twitter and Loopt rolled into one. Users can subscribe to their friends, a group of friends, or to specific locations known as "Plazes."
Updates can be done via plazes.com, by mobile phone and text messaging, or by a number of third-party applications using the Plazes' API. And, we can expect, Plazes will be on millions of Nokia phones worldwide as soon as possible.
"Nokia is a perfect partner for us because they share our product vision and have the muscle to bring locative presence to hundreds of millions of people all over the world," the Plazes team writes on its blog. "What better partner than Nokia for exploring innovative ways of connecting people?"

With Plazes and other recent acquisitions, Nokia is clearly connecting people through location-based services, maps, music communities, gaming, and — almost forgot — voice.
In 2006 Nokia purchased a mobile mapping company Gate5, also based in Berlin. Nokia followed that with the intent to buy Navteq, the world's largest data mapping company. That $8 billion deal is expected to be completed soon. Other social networking and media companies purchased by Nokia include Twango, Enpocket, and Loudeye.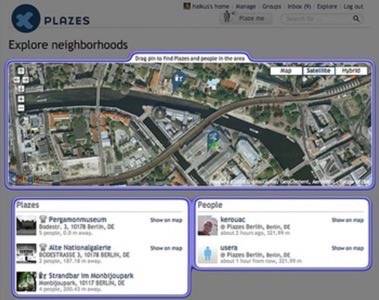 Nokia is busy with its own service development as well, including desktop-mobile portal Ovi, the Comes With Music initiative, an online music store, and the N-Gage gaming effort.
Imagine everything Nokia offers wrapped in a cuddly location-based, mapping, social network cloth where all of its users are connected to their interests and each other in the virtual and physical worlds at the same time.