The OpenCoffee Club is "a place for people who love startups to hang out and meet" according to their recently launched social site on Ning.com. From Cork to Capetown, Seattle to Sydney, and Paris to Palo Alto, people are getting together on a weekly basis to discuss all things startup and to meet and pitch their ideas to VCs. For an idea that only kicked off last February, it is beginning to take the world of web entrepreneurs by storm.

What is it?
The OpenCoffee Club started as an attempt to establish recognized, open and regular meeting places where entrepreneurs can meet with investors in a totally informal setting. It is the brain child of Saul Klein, a venture partner at Index Ventures and a VP of Skype who is based in London. The goal of OpenCoffee, Saul told me, was "to create something that can be replicated anywhere else at little or no cost … where entrepreneurs can meet and know people might be around for them to talk with."
OpenCoffee, London; pic by Lloyd Davis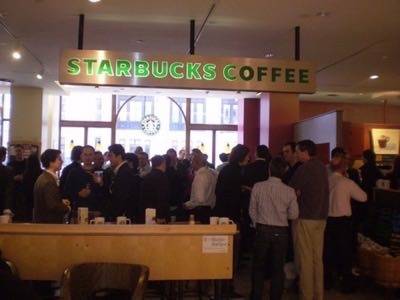 The idea is simple. Events are arranged on a set date in a set location. Entrepreneurs and people interested in the industry come along to chat, discuss their ideas, and build relationships. VCs also come along and entrepreneurs have a chance to pitch their ideas to them – and discuss whether they might be interested in funding them etc. One success story I have heard of so far is Moveme.com which got the ball rolling on their funding at one of these events.
John Jennings, Simon Curran and Wannita Phanchana at Limerick OpenCoffee; pic by Irish Typepad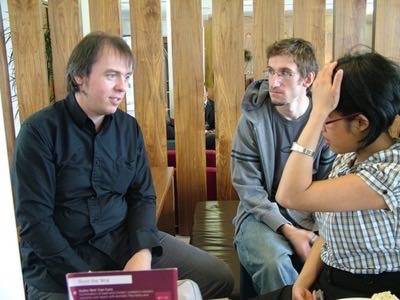 The main attraction for people who come along seems to be the relaxed atmosphere. It's a great way to meet other startups in your area and build new relationships. For VCs its a quick and easy way to meet with a group of local entrepreneurs and to get to see their products/ideas in action. For a lot of people the conference circuit has been the only outlet to network with potential investors and other startups face to face, but this can be an expensive game for people on tight budgets. The OpenCoffee Club is free for anyone interested to come along.
An Open Coffee Club in action in Munich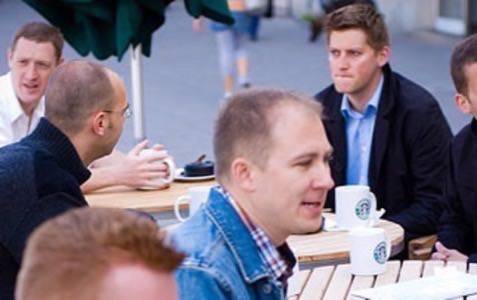 Where's the Fire?
The fire is everywhere and is spreading quickly. There are now 38 coffee clubs in various cities spread around the globe, and anyone can start one. Sam Sethi from the UK blog Vecosys told me last night: "Open Coffee Club is like speed dating for VCs and Entrepreneurs. VCs can come along and quickly meet lots of interesting startups and hear their ideas". Conor O Neil from new Irish startup LouderVoice recently wrote the following about his first visit to the OCC meetup in London on the 14th May: "The energy in the room was infectious and everyone was there to meet and talk and network… The attitude of everyone there seemed to be one of community. 'Oh you haven??t met X? I'll introduce you' was a phrase I heard many times over."
From the point of view of the VCs, Johannes Ditterich from Target Partners told me: "Open Coffee Club institutionalizes and supports what is currently in the air in Europe already: The dawn of a culture of entrepreneurship with a new generation of founders and startups." And Nic Brisbourne from Esprit Capital Partners had this to say: "I make it a priority to get to OpenCoffee. I like going because it's a great place to pick up a feel for what is going on at ground level and because I get the chance to put something back by sharing thoughts with entrepreneurs who are just starting their companies."
Conclusion
Events like these should have an instant appeal to anyone in this business as a free and easy place to network and build community. Where will it go from here? Saul (OCC Founder) tells me that they are planning their first international OCC meeting next week in Amsterdam before the NextWeb conference. He also hopes that with the launch of thier site on Ning.com, many more people who don't have a OCC nearby can start to network online.
If you are interested in starting a OCC then you can get in touch with Saul Klein. I will be at the NextWeb Conference next week and hope to make it there on time for the first international Open Coffee Club, which is being billed as "500 cappuccino please!".
Have any R/WW readers been to an OCC event? If so we would love to hear about your experience in the comments.