Freelancing is a tough life, no matter what your skills are. Writers, developers, and consultants all have to scout work, sell themselves, manage their own time and then shake down clients to collect their fees. Work is never steady and coffee keeps getting more expensive.

OneThing.com is a new directory for freelancers who want to advertise their talents and build a verifiable reputation. There are two things that are really cool about it.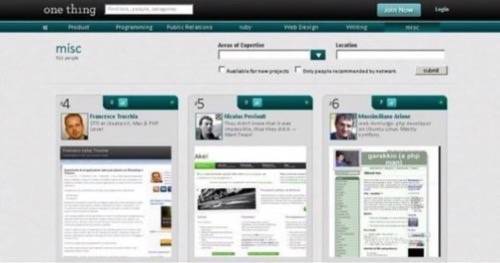 The first cool thing is the strong visual interface. Most freelancer directories are text-dense (or just ugly). OneThing uses a Google Fast Flip-like interface to display profiles of freelancers with an avatar, short description and website screenshot. It basically packages your personality and your work and sells it in one blink.
Freelancers using OneThing can also sub-contract work to and from each other when there is a surplus or a dearth of business.
And for the other side, OneThing speaks to that old gripe – "it's hard to find good people." You can put up an ad for a gig on craigslist and get 400 responses. But it's going to take a lot of work to figure out which 95% of them are crap.


Contrast that with typing in search terms to display compact, visually compelling results at a time, which you can filter by location or "area of expertise." It's more like flipping through a stack of resumes on a spacious desk – except at a glance these packaged profiles reveal information about a person than a resume.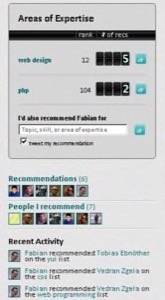 You can also see who has left a positive reference for the freelancer, and filter for "recommendations" from people you know or trust.
The Menlo Ventures-backed startup is now in private beta but it has about 17,000 profiles. It's got a few drawbacks – the emphasis on visual flipping makes the search results harder to refine, and profiles of freelancers without websites display a massive warning sign in a giant white box with the words, "Something cool coming soon."
It'll be interesting to see if this site catches on – the Internet's freelancers surely need it.