Websites that morph – that is, literally change their look, feel and content to cater to an individual user's preferences – can increase purchase intentions by as much as 21%, according to a study by John Hauser of the business school at MIT. But before that can happen, retailers need to figure out the more basic practice of website personalization, or making offers based on what the site knows about a user. Specifically, retailers need to figure out how to make personalization less creepy.
The idea behind personalization is, as former Urban Outfitters marketing executive Dmitri Siegel told The New York Times, to "stop marketing dresses to men." As we share more and more information on the Web, websites are getting very good at figuring out what we want – often before we know we want it. The problem is, sometimes websites get it wrong. And other times, customers are unnerved when a website knows something about them that they had not consciously shared.
"We saw customer frustration at being targeted outweigh any benefit," said Siegel, who now works for Patagonia. "If you got it wrong once, it outweighed getting it right 10 times."
Implicit vs. Explicit Personalization
The problem facing retailers trying to personalize a website comes down to how the company collects its information, Bruce Kasanoff, co-author of "Smart Customers, Stupid Companies: Why Only Intelligent Companies Thrive, And How To Be One Of Them," said in an interview with ReadWriteWeb. "Implicit" makes assumptions about what you do on the Web – someone who checks Boston Red Sox scores each day and reads articles about the team is probably a fan – whereas "explicit" makes assumptions based on specific inputs (I like the Boston Red Sox).
"Generally speaking, explicit works better, but participation rates go way down when sites require explicit personalization," Kasanoff said.
The big winner when it comes to gathering explicit information? Pinterest.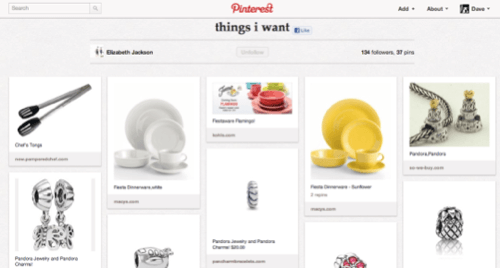 "Pinterest largely solved this problem by creating a really fun way to gather a user's explicit input," Kasanov said. "Most people don't realize they are giving Pinterest explicit personalization input when they 'pin' something."
Creepy Vs. Acceptable Personalization
Nick Herinckx, owner of Obility Consulting, which specializes in online marketing for B2B companies, said that in his experience, users like personalized ads – but only as long as they don't know an ad has been personalized. He uses page visits on websites, age, gender, sex, hobbies, past jobs and education in the campaigns he puts together for clients.
"What I've discovered through building and running very targeted online ad campaigns using this data is that users respond favorably to ads that are more targeted, but only if the ads don't make it clear that I'm targeting sensitive information about them," he said. "What's most interesting, and what I'm learning, are which attributes are considered too creepy, and which ones are acceptable."
He pointed to a targeted campaign he ran on LinkedIn that was aimed at IT professionals over the age of 30. He got a much lower response when the ads made it clear that users were seeing the ad because of their membership in certain groups on the business networking site.
"Here, mentions of professional credibility had a great response, whereas age and mentions of their online activity (LinkedIn Groups) weren't responded to very well," Herinckx said in an email.