Chance you could search the full Harper's Index online, last week: 0% Chance you can do so today: 100%

Harper's Index, the most thought provoking fun you'll find on one printed page, is turning 25 years old. Harper's Magazine, launched in 1850, is the 2nd longest continuously published magazine in the United States (behind Scientific American) but the Index is the first page that many readers skip to in each issue. To celebrate the Index's anniversary, Harper's has put the full index of biting trivia one-liners up on its website for searching and reposting on Twitter. Welcome to the 21st century Harper's Index, may you bring us as much joy and reflection in the future as you always have in the past.
If you've never read the Harper's Index, you're in for a treat. In an age when blogs like Boing Boing have built huge audiences by collecting fascinating little tidbits from around the web, it's good to remember the predecessor of the art, Harper's. The company's research interns have scoured offline media for timely factoids since 1984.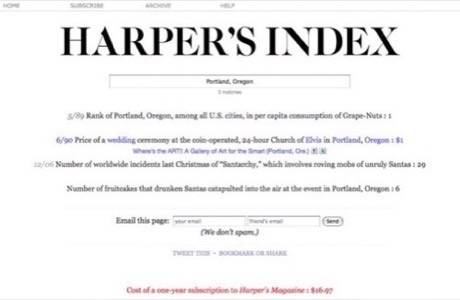 New York Times City Room editor Patrick LaForge noted the new page's availability this afternoon and the official Harper's Twitter account announced a "Twitter sneak preview" yesterday. Search results are displayed just like a topically organized installment of the traditional Index, but with sources displayed and a link to Tweet each fact when you hover over one with your mouse. It's quite nice.
This is a great way to introduce the print publication to a new generation of readers. We hope it will help this institution continue to thrive into the next era of media.