It seems that every day a new IoT device or means to connect existing devices is revealed. With so much energy in being devoted to tell us how, when, where, what we can connect to each other, the "why" may be getting a little blurry. So we want to take a step back every now and take a critical look at the connected devices that actually go out and buy, right now.
(Ed note: We also do a round-up of crowdfunding ideas you can't quite get yet…or possibly should never be able to get.) Here's what caught our eye, for all the right – or wrong – reasons:
Tzukuri
If you're the kind of person who likes to wear expensive designer sunglasses, then these smart sunglasses by Sydney company Tzukuri are for you.  The Bluetooth-powered sunglasses are embedded with a tiny beacon on one arm and connected to an app which will send you a series of notifications if your sunglasses are away from you – unless you clear the notifications – and will show you how far away they are to help you find them. If they're not in range, it'll show you their last location on a map.
They need periodic charging and at $425 the makers predict they'll last a few years. I can see this technology being applied to prescription glasses and various headsets in the future.
Verdict: Hit
SmartPlate
The SmartPlate is one of a number of calorie controlling devices that aim to monitor and  track your eating habits. It is the world' marketed as the "world's first"Wi-Fi and Bluetooth-enabled device that instantly tracks and analyzes everything you eat, so you never have to enter anything manually again. The SmartPlate is equipped with 3 mini-cameras (e.g. like the ones currently used in smartphones) and uses advanced object recognition to identify everything sitting on its surface. It also comes with super accurate weight sensors which enable it to weigh up to three pounds of food at once. It then combines both the image and the weight, and sends this information to the USDA's database of over 8,000 household foods for analysis in only a few seconds.
The purpose of the plate is commendable and it's integration with Fitbit is strategic. I like that it is gradually learning to calories count 'mixed' foods through algorithms. But it's questionable whether (like many fitness wearables) consumers will stick to using the plate after the initial period post purchase. It's reminiscent of the earlier the Hapifork in using connected technology to manage eating. It's success is relying on the consumer to want to continue to count calories, a method that has been bought into question by a range of obesity experts. It retails at $120 and it is perhaps a precursor of future products that integrate a more inclusive notion of health including psychological support.
Verdict: Miss
Clever Buoy
Series Commitment Rings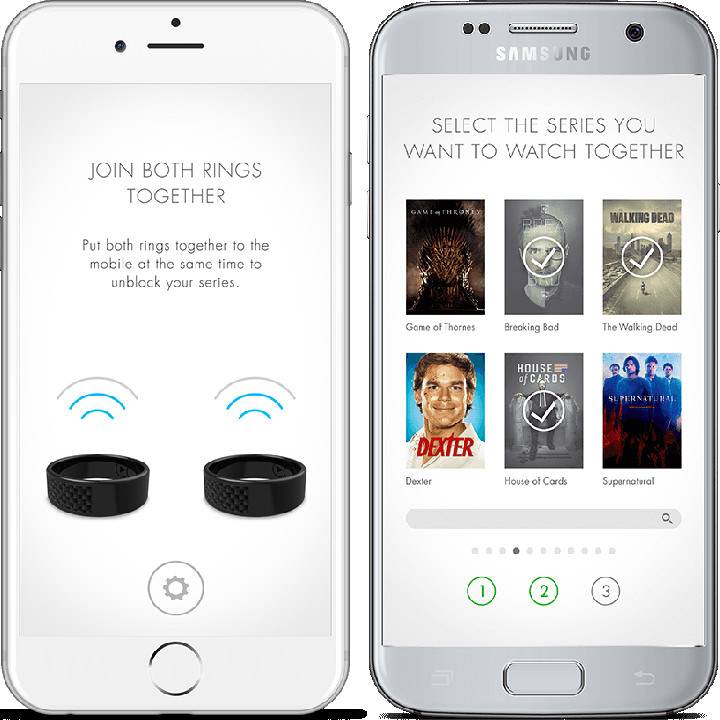 Ice cream company Cornetto has created an interesting gimmick product, the Series Commitment Rings, aimed at preventing one half of a relationship from forging ahead with a shared television program without the company of the other.
The Commitment Rings have NFC technology and are linked to a video streaming service account for six months. With its mobile app, couples can pick the series they want to watch together. When the rings are close to each other, the app detects them and automatically unblocks those series. The company is still in negotiation with the streaming companies and it's unclear how many rings will be distributed  — presumably the purchase of an ice cream is involved — but it's a fun idea.
Verdict: Hit
Smarttress
Another connected device with the theme of infidelity, Smarttress — made by Spain's Durmet — is a smart mattress designed to keep an eye on your spouse. Based on the assumption of a cheating partner, the mattress contains a "lover detection system" of vibration censors and a "contact zones detector" that is able to send an alert to your mobile phone when your bed is being used in a "questionable way" which includes how fast the bed is moving. It retails at $1,750, making it far cheaper to install the best hidden camera ever. Or, you know, just use a hotel. Or maybe it's just cheaper than hiring a private investigator?
Verdict: Miss