Last month Neura, the company calling itself  "the ethical personalization service for the Internet of Things," announced that it had raised a $11 million Series A funding round. The firm appears to be leading in innovation in the creation of personalized data.
Neura's technology utilizes smarter integrations through machine learning to enable users to get to an unprecedented level of technology personalization. Apps and devices are enriched with insights not only about users' past and present actions but also calculated predictions about the next thing they're going to do.
I met with Denis Vitchevsky, VP Strategy yesterday and I was keen to hear how such predictive technology might work in practice. He explains:
"If you are listening to Spotify, we can tell Spotify your location and who you are with and Spotify will adapt what music is played accordingly, for example, play songs that suit driving or that will suit the tastes of both you and your partner."
This kind of intuitive learning can provide a plethora of conveniences to everyday life from a smart door lock that can request to know when you fall asleep at home, in order to check that the door is locked when it happens; to a smart car  requesting to know when you're sleep deprived and when your blood sugar is low if you're a diabetic, in order to turn on extra safety features.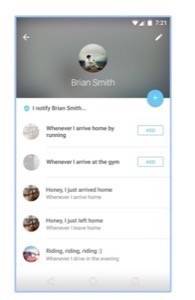 The data gleaned by Neura has an extensive range of potential commercial audiences and applications from car manufacturers gleaning information about how people drive their cars to urban planners learning a consumer's geolocation over a period of time. Not to mention the extensive data that can be mined from health devices and apps.
Making consumer tech more intuitive
Neura believes that the digital identity of the consumer  — generated by a consumer's technology use — can enable connected products to become more intuitive. However, it's worth stressing that in contrast to other companies, Neura works at creating a more ethical data sharing ecosystem. The digital identity can only be utilized with the express permission of users, giving individuals complete and irrevocable control over their data – allowing them to share only what they're comfortable with, in exchange for tangible value.
This is an interesting point of difference. Neura's business model is to give their users a smart solution for interacting with their IoT space and selling data gleaned from their actions and preferences to their partners. For example, sharing your Fitbit data with an insurance company may result in cheaper insurance premiums. Or sharing your Google map geography could result in a discount by a car hire company. With their CTO Triinu Magi having been previously employed at RSA, the Security Division of EMC, it's clear they take privacy seriously.
Vitchevsky says:
"Tech companies often see data as a monetization opportunity instead of helping the people they gathered it from. In turn, users are too willing to cede control of their personal information so they can use services like Google Maps or Facebook."
Neura's API and SDK are available on Github for keen IoT developers to utilize and the company is hoping to launch on IoS soon (currently only in beta mode). Vitchevsky shared that they are currently teaming up with a range of companies engaged in IoT and health and it will be interesting to see what comes next.