Setster is a new service, still in beta, that allows businesses to let their clients or customers book appointments with them directly through an online calendar widget. Setster supports working with multiple employee calendars (which they call providers) on the same login, as well as a catalog of services a client can choose from and a couple of different widget styles.

Online calendaring is great, but there are some types of jobs that require a lot of calendar interaction between the employees and the clients that aren't well-served by what's out there in the Web 2.0 space, for example realtors and health spas. Traditionally, a live receptionist has had the duty of maintaining the various employee calendars of these types of businesses, but being able to automate this process online may become more important, especially in this economy. In addition, there are some roles where the organization may not be large enough to warrant a full-time receptionist, like a hairstylist working for themselves.
This is the problem that Setster was designed to solve. On the back end, once registered, the Setster user can set up their business information, work hours, service providers, basic services with cost if any, choice of widget style and maybe some important clients. Users can also manually enter appointments on the calendar once everything else is set up, as well as approve, make changes to, or reject unverified or unconfirmed appointments. On the front end, users are given a Setster URL that they can give to their customer to schedule appointments, or they can take the widget code and embed it in their own business web page.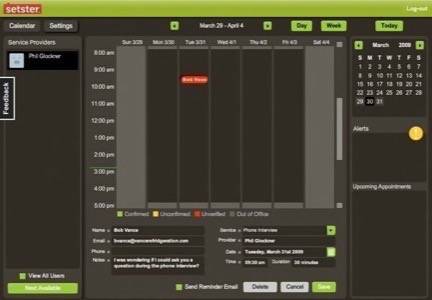 From the client end, there is access to a very simple-to-use widget either from the business web site (after set-up) or the Setster provider-specific site, where a client can choose an appointment time and fill out the rest of the details, and then click on an email confirmation link. The service takes care of reminding the provider (the Setster user) of the appointment and confirming it on their end. Alerts can also be set for important appointments.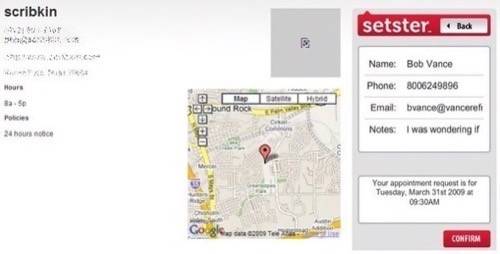 Finally, the site has been tuned to also work with small business that may have several employees all with busy calendars. One login allows selecting which employee calendar to look at, and choosing the next available appointment slot either for one employee specifically, or across all the calendars (first available). This can be a great help in a business like a hair salon where the customer may not need to choose the same person each time.
There are a couple of downsides to be considered. First, there doesn't seem to be a way to import or export calendar data from Setster. It seems to assume that a company will start off using this software and love it so much they will never want to migrate to anything else. Second, the site indicates that the service isn't going to be free, or that perhaps there will be tiered pricing. However, we couldn't find any suggestion for how much it would cost to use Setster after it emerges from beta, so you might want to get signed up and test it now if the concept appeals to you.