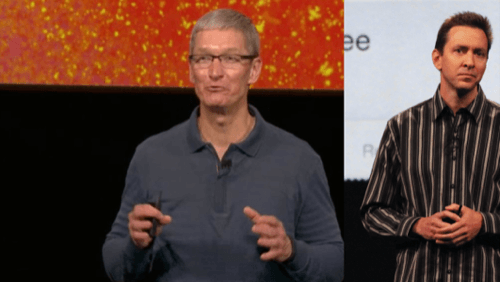 There's huge news coming out of Apple on Monday, as two top execs are leaving the company, including one, Scott Forstall, who some had viewed as a potential future CEO of Apple. Forstall will stay on as an advisor to CEO Tim Cook through the end of the year but then he's gone, Apple announced. Also leaving is John Browett, who joined as head of Apple's retail operation only ten months ago, in January 2012.
What's going on? Apple of course won't say. But Cook is a notoriously tough boss, the kind who doesn't waste time getting rid of problems.
Problem Children?
And make no mistake, both Forstall and Browett were problems.
Browett simply was a terrible fit. He joined from Dixons, a British consumer electronics retailer, where he'd been CEO. In August rumors started spreading that Apple was planning to cut retail employees' hours in order to boost profits. It was a dumb move, one that Apple quickly undid, with a spokesperson telling Dow Jones that "Making these changes was a mistake and the changes are being reversed."
And, right then, the countdown on Browett began.
As for Forstall, maybe he just figured out he is not going to become CEO, and so has bailed. Or maybe, as analyst Tim Bajarin of Creative Strategies sees it, Cook is making it a priority to have greater integration between iOS and OS X, and "Forstall probably did not fit into this new leadership vision."
Nevertheless, Forstall's departure comes as a shock. Only a year ago Businessweek raved about him in a piece titled, "Scott Forstall, the Sorcerer's Apprentice at Apple."
That article called Forstall a "mini-Steve" (meaning he's like Steve Jobs) but also pointed out that Forstall is such a nightmare to work with that "a number of high-ranking executives have left the company because they found Forstall so difficult."
Not just a little bit difficult. Businessweek reported that other top execs hated Forstall so much "that they avoid meetings with him unless Tim Cook is present."
The two top adversaries? Head of design Jony Ive and head of hardware engineering Bob Mansfield – both of whom, curiously enough, are getting bigger roles in the wake of today's management shakeup.
So maybe the explanation is just that Ive and Mansfield got Forstall voted off the island.
Forstall Was A Force
Difficult or no, Forstall had been close to Jobs (he worked at NeXT with Jobs and joined Apple when Jobs returned in 1997) and he was considered a rock star. He oversaw development of Apple's iOS software, arguably the most important division of the company.
But lately Forstall took some heat for the maps fiasco in iOS 6. In the latest version of Apple's mobile operating system Apple dropped Google maps for a homegrown alternative that turned out to be not ready for prime time. Forstall got the blame for it, in articles like "Does Apple have a Scott Forstall problem?" by Philip Elmer-DeWitt of Fortune, who pointed out that Forstall had also been responsible for Siri, the voice assistant that doesn't actually work right. Forstall also got blasted by Business Insider and by Jean-Louis Gassee, a former Apple executive and close Apple observer who writes an influential weekly column.
A paranoid person might suspect that someone inside Apple had it in for Forstall, and was trying to drive him out.
Apple Infighting
Then just this month Fast Company's design correspondent, Austin Carr, reported on a civil war brewing inside Apple over its use of skeumorphic design, an approach in which designers create software that looks like real objects in the physical world – a book application looks like a real wooden bookshelf, a calendar app comes decorated with a fake leather binder, and so forth.
According to Carr, Forstall likes skeuomorphism, and kept pushing for more of it, while Jony Ive, the head of design, hated it.
Neither of these things, on their own, were probably enough to get Forstall pushed out, but when you've got a guy who is obnoxious to everyone around him, and then he slips up a bit, well, this is what happens.
Note that Apple's press release announcing the changes points out that, "Jony Ive will provide leadership and direction for Human Interface (HI) across the company in addition to his role as the leader of Industrial Design.
Get that? All user interface stuff, on all products.
Note also in the press release that Bob Mansfield suddenly is returning to an operational role and "will lead a new group, Technologies, which combines all of Apple's wireless teams across the company."
That's funny because just last June, Mansfield, who used to run hardware engineering, announced plans to retire. But then, in August, Apple said Mansfield would stick around, working on "future projects."
Earlier this month Businessweekreported that Cook had lured Mansfield back by offering him "an exorbitant package of cash and stock worth around $2 million a month." The article also quoted a former Apple employee, Bret Halle, who said "there's more organizational infighting than is healthy," and that "it needs to be brought into check."
So now Forstall is out, and Mansfield, who supposedly can't stand Forstall, is back. Coincidence?
Earlier this year, in a book titled "Inside Apple," Fortune reporter Adam Lashinsky dubbed Forstall "Apple's CEO-in-waiting."
Well… not anymore.
Time Cook image from Apple video feed. Scott Forstall image by Matt Yohe.