Google's Data Liberation Front keeps adding new ways for Google users to get their personal data out of Google's services and back into their own hands. The latest addition to Google Takeout is YouTube videos. You can now download all of the original, full-quality videos you've uploaded to YouTube and take them elsewhere whenever you want. Here's how.
1. While logged in to your Google account, go to google.com/takeout.
2. Click 'Choose services' in the navigation bar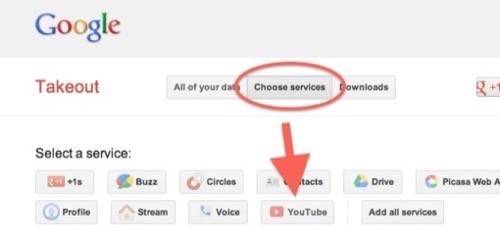 3. Click 'YouTube'
Note: you can also go straight to the YouTube export page by going to https://www.google.com/takeout/#custom:youtube
After it loads, you'll see the estimated number and size of the files.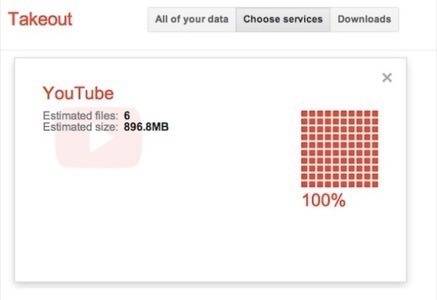 4. Click 'CREATE ARCHIVE'

This could take a while, so you can select 'Email me when ready' to get a notification.

5. When it's all done, you'll get a link to download the videos just the way you uploaded them.
Previously, you could download videos one at a time from your Video Manager on your YouTube account page. But Google Takeout lets you download the whole batch at once, even if it takes a (potentially long) while.
Data portability is always good, and Google has always led the way.