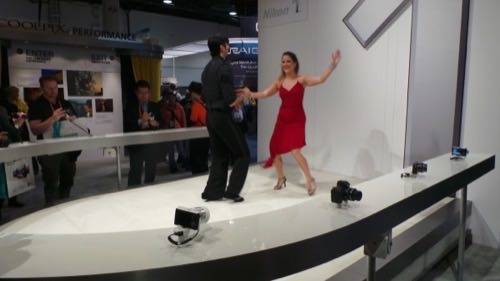 It was fashionable this year to dismiss CES as irrelevant and a waste of time. Some tech sites didn't even send reporters. Others that did send staff mostly did so to promote their own brands, with big booths covered in their names and logos.
To be sure, there's some truth to all the sneering. The show is too big, too crowded, too bloated, too filled with doofy booth shows like the one in the photo above, where Nikon had ballroom dancers performing ostensibly to demonstrate the stop-action performance of some new cameras.
Nevertheless, after four days in Las Vegas I came away feeling optimistic. I wasn't struck by any one particular product, but by a sense of what all of them, together, represent.
Which is this: The Web, now about age 20, is hitting an inflection point. A new Internet is emerging. In fact it is already upon us. I don't mean just the "Internet of Things." That's part of it, but the whole picture is bigger.
Think of it this way. The first Internet was a place you went to. You dialed up or logged in. It was over there, and you were here. The new Internet is just here. It's all around us. It's constant, ubiquitous and pervasive. We interact with it so naturally that there seems to be no user interface at all. The new Internet is in our phones and in our homes. It's in our refrigerators and thermostats and cars. It's on our bodies. We ourselves are actually part of the Internet. We're woven into the very fabric of it.
Thus, in mobile, we see the drive toward devices that cost nothing, or at least so close to it that someday soon practically everyone on the planet will have one. I gave a few presentations last week and at each one I handed around two tablets from Datawind, the company that's making the Aakash tablet to be sold in India this year at a price of $20. People were stunned. The Aakash isn't cutting edge, but it has a decent processor and runs a recent version of Android, with all the usual Google apps. You hold one in your hand and it's easy to imagine the next billion people coming online.
The Plus And Minus Of Mobile
So there's mobile everywhere, which means computing everywhere, which means information everywhere, which means huge changes for every aspect of life on our planet. Politics, news, entertainment – everything.
Marketers should love this, but right now they hate it. They are incredibly frustrated by mobile. I heard this over and over in meetings I attended. They simply can't figure out how to do anything compelling with tiny screens.
I get the frustration. These are people who make their living by pushing messages onto screens. Their industry has been doing this for half a century, first on televisions, where it was very effective, then on computers, where it was less so. Now the screens are tiny, the ads are ineffective and the dilemma facing marketers is huge.
But maybe they are looking at mobile the wrong way. Maybe the best use of smartphones will be not as vehicles for pushing ads but rather as devices with which to gather data. Marketers are hampered by an understandable bias. It's natural for them to see every new screen as yet another miniature television.
Advertisers and marketers are also very good at talking, less good at listening. They've spent a half century running a one-way communications operation. But mobile maybe will force them to become better listeners. Maybe mobile devices will end up being more valuable to marketers by means of their ability to track and transmit behavioral data than because of any revolutionary new miniature advertisement that, by some magic, people won't hate.
Cloud And Big Data
Which leads to cloud and big data, the tools by which all that random data will be aggregated and made sense of. Which leads in turn to Google, the company best positioned to gather massive amounts of mobile data (its Android operating system has 75% market share in smartphones, and now maybe you can see why Google is willing to "give Android away" and isn't overly concerned when critics carp that Google "doesn't make any money on Android").
Not only is Google in position to gather data, but it is probably better equipped to do something useful with that data. After all, Google has spent more than a decade refining the art of data-driven advertising, while at the same time pushing ever closer to realizing the dream of true artificial intelligence.
Which leads to a (perhaps depressing) realization: When true AI finally does emerge, its first application will be to sell laundry detergent. I made this point in a presentation to a group of people who make their living selling, among other things, laundry detergent. They found it not depressing at all. Point taken.
New Interfaces
What else? New interfaces. This wasn't front and center at CES, but if you looked and listened carefully you found it. Intel was talking about interfaces. Leap Motion and its revolutionary controller were at the show with Asus. Nuance is pushing voice into everything. Samsung was showing off new ways to control your TV.
There's plenty to carp about. Nothing works as well as vendors say it will. Every vendor has its own solution and they don't interoperate. But that's always been the case, and we've always found our way forward. The same will happen here. Remember where we were ten years ago. Now picture ten years in the future.
We'll get there, if only because we have to, because the way we deal with the Internet today – tapping away on keyboards or poking at virtual keyboards on tiny mobile touchscreens – is clumsy and primitive and stupid.
Wearables, Homes, Cars
Which leads to wearables. The show was full of them, and while some seem a bit nutty, this is where we're headed. We already carry our smartphones with us 24–7, but now we're about to clad ourselves in arrays of sensors. Here, as in mobile, marketers are already trying to dream up ways to jam advertising messages into these devices, and already anticipating frustration. As with mobile I think they are looking at this the wrong way. The game may be less about "What can I sell with these things?" and more about "What can I learn from these things?"
Same goes for home automation devices. Nest wasn't at at the show with its incredible learning thermostat, but that product is probably the best example of what can be done in this space. Are marketers out there trying to dream up ways to push ads onto the Nest device? I cringe to think so, but I wouldn't doubt it. But the real value of Nest and other devices is the data they will generate. At the most crass level, if I were a marketer trying to sell luxe or near-luxe products I would view the Nest an amazing proxy device. Think about it. Who buys a Nest thermostat? Someone who is tech-loving, app-savvy, and has enough disposable income to drop $249 on a thermostat. Who wouldn't want to target that customer?
Finally, cars. I've never seen so many outside of a car show. I was eager to see what companies like Ford are getting up to with screens and computers and apps. I left a meeting with Paul Mascarenas, the CTO for Ford Research and Innovation, feeling blown away by what they're doing. More on that in a future article.
A few years ago I stopped going to CES. I thought it was a waste of time, and more annoying than productive. I still find the show itself almost completely unbearable, while the stuff being shown there continues to amaze and inspire. It's easy to laugh at the goofy products. But the relentless push forward, the urge to innovate and compete, to make the world a smarter, better, more exciting place – that is still there, as strong as ever, and I came away feeling that the world we inhabit a decade from now is going to be truly amazing.