In 1994, when Amazon was launched, its first package consisting of a Physics book was sent via post. Fast forward to 2020; today, drones are being deployed to deliver packages at customer doorsteps.
Folks! The utopian future that was depicted in The Jetson's Family cartoon is almost upon us. eCommerce is the key driver of the future. Every year, new trends emerge in the eCommerce space at such a giddying space that it is natural to feel missed out.
Even in 2020, we expect the global eCommerce space to evolve in several aspects. This blog aims to capture such trends that will shape the eCommerce space in 2020.
What are those trends? Read further.
Developments in on-demand deliveries.
In 2019, eCommerce deliveries became time-sensitive. Numerous studies have proven that customers are willing to shell out extra bucks for same-day delivery or scheduled deliveries. PwC's Global Consumer Insights Survey 2018 found that over 40% of online shoppers said they would pay an additional charge for same-day delivery.
From an eCommerce business perspective, same day deliveries can result in higher sales volumes. Another allied benefit is that there will be a reduction in the need for warehouse space. Thanks to the fast-paced deliveries made possible by last-mile deliveries, online stores will need only smaller distribution centers to store stocks.
Now, how will the delivery scene change in 2020? Amazon's Prime Air hints at a future when most deliveries could be made by drones. In fact, in an interview with CBS News, given in 2013, Jeff Bezos has hinted at the future when Amazon will deliver packages via drones. He claims that more than 86% of Amazon packages weigh less than 5 pounds. Read this fact, along with customers are willing to pay for immediate/same-day delivery, in 2020, we can expect to see more drones flying to deliver packages.
Source: Theverge
Data privacy will take center stage.
Businesses today have endless touchpoints from where they can collect and analyze user data. Web browsing cookies, mobile app usage, website behavior heatmaps, to name a few. However, reckless data collection of users could spell doom for the business. eCommerce retailers have been the infamous lot for sending too many retargeting ads and emails that infiltrate user's data privacy.
Also, there have been umpteen cases where brands have been found to be lethargic in protecting user data. The security breaches of British Airways, Equifax, Exactis, Cathay Pacific are a few notable examples. Accordingexciting to PWC's 2018 Digital Trust Insights, "although companies encourage consumers to entrust them with their data, only 53% include proactive management of cyber and privacy risks in their digital transformation plans."
In 2020 and years to follow, such data privacy hindering activities will become restricted. GDPR was just a beginning to such data collection controls that hamper user's data privacy. As data privacy takes center stage, businesses will be forced to implement new data protection measures or revamp their existing processes.
Voice shopping to gallop in volumes.
Amazon's Echo has 10% penetration of US homes, Google's Home, 4%, and Microsoft's Cortana, 2% — this is the estimated market penetration of virtual assistants in US homes. Do you know what is the most obvious feature of all these virtual assistants?
Voice search.
Right from checking how the day's weather is going to pan out for the day to streaming on-demand music, there is so much that these virtual assistants can go. Furthermore, they have become catalysts for eCommerce as well. The talking shop – the rise of voice commerce report by OC&C Strategy Consultants have found that by 2022, voice shopping is expected to jump to $40 billion in the US and by $5 Billion in the UK.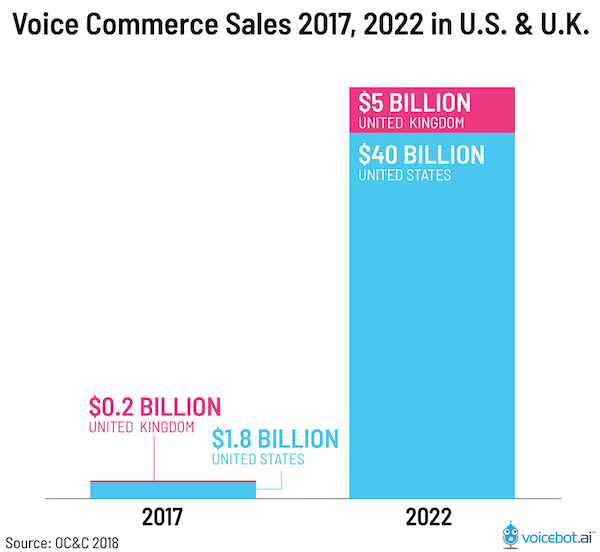 Source:voicebot.ai
Modern eCommerce retailers, if they wish to stay relevant in a business landscape led by voice search, will be forced to adapt their shopping channels to voice shopping. And 2020 will see more developments in that direction.
Immersive experiences will become differentiators.
One thing that makes eCommerce enticing for online shoppers is the experience of viewing, comparing, and making their final pick from an almost endless list of options. Until now, that experience was limited to watching 2D images of products from multiple angles with zoom-in and zoom-out feature.
Today's customers mostly made up of millennial age groups, want immersive shopping experiences packaged within their few-inch screen mobile screens.
Luckily for eCommerce retailers, several new technologies can dish out immersive experiences that captivate users — augmented reality being one among the top of them. Augmented reality is one of the mixed reality technologies that embed digital snippets of data atop physical objects or surfaces.
In eCommerce, augmented reality has several applications, including real-time product try-ons in actual physical surroundings. Virtual mirrors for fashion shopping to cite an example. Another real-world example if that of IKEA's mobile app. It allows users to place their choice of furniture items in actual physical surroundings.
The benefit of AR in eCommerce is twofold — first, it makes shopping enticing. Secondly, it helps reduce the volume of returns substantially. ECommerce brands that take heed in using immersive technologies will be able to differentiate themselves from the rest of the fold.
Small businesses to become a dominant force.
It is no secret that is the big enterprises that always hog the limelight with their dizzying stock prices and globe-spanning sales territories. But, there is another side to the story. Small businesses, typically floated by solopreneurs or by a small team of ambitious individuals, have been rising in number and volumes in recent years. They have fewer than 500 employees and yet have managed to penetrate markets that were earlier reserved for the bigwigs.
According to the US Small Business Administration, there are nearly 30 million small businesses in the United States, employing 47.8 percent of US workers. Also, studies byClutch.co-found that nearly Two-Thirds of Small Businesses Rely on Websites to Connect with Customers. At the beginning of 2018, almost two-thirds (64%) of small businesses have a website.
In other words, it is safe, to sum up, that small businesses are a dominant force that will gather momentum in 2020 and beyond. In addition to generating employment, they will also leverage the power of eCommerce to carve a niche for themselves in a global market.
Along with mobile shopping, digital wallets would also become mainstream.
It is no secret that mobile commerce has grown with leaps and bounds in recent years. However, there has been one catalyst feature that can be cited as the prime reason for this rapid growth of mobile commerce. It is a mobile payment facility like digital wallets. The mobile payment industry is projected to reach $4,574 billion by 2023.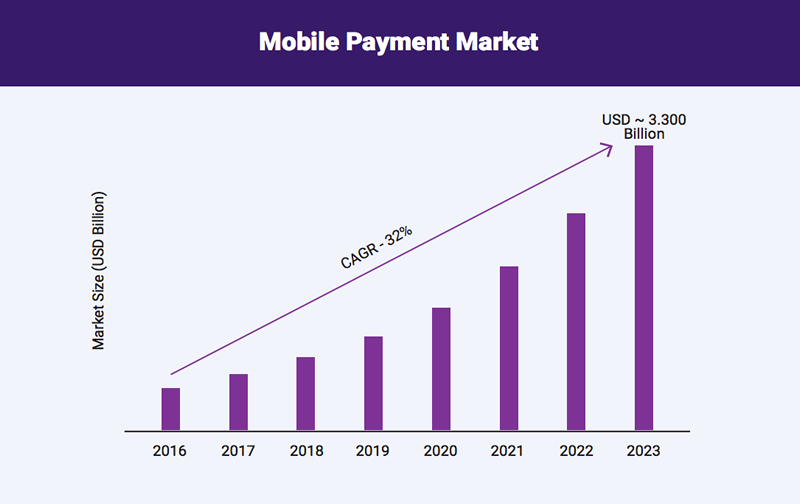 source: growcode
There are several benefits that mobile payments and mobile wallets offer customers that make them enticing for customers.
The convenience of not carrying a wallet or plastic card
Quick online ordering without leaving the mobile app screen
Loyalty points and rewards on transactions
The facility of sending/receiving the money to contacts and most frequently used outlets
More inclination toward sustainable practices.
Greta Thunberg's flaring speech on climate change sends ripples around the world. It was heard by businesses as well. After all, they are the biggest consumers of natural resources. Also, almost 90% of eCommerce orders being shipped in corrugated boxes, which mounts huge pressure on the rainforests.
With rising awareness about climate change, shoppers are inclining towards brands that have adopted eco-friendly practices. Top among them is eco-friendly packing. According to Nielsen, 73% of consumers say they would definitely change their consumption habits to reduce their environmental impact.
Along with eco-friendly packing, consumers are also becoming increasingly conscious about the products they use and their impact on the environment. The same Neilsen study quoted above mentions that there has been a tremendous increase in consumers who are willing to pay a premium price for organic products.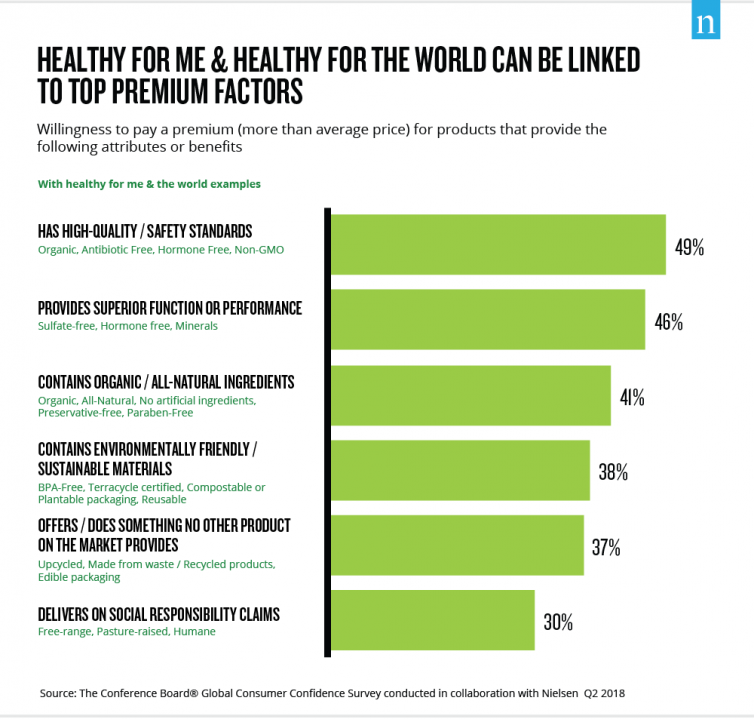 Source: nielsen
Better return policies in the cards.
The pleasure of online shopping also has a peril to it. Customers are wary of the quality, the fit, and the rightness of their choices. As a result, returns skyrocketed, hindering the profitability of online stores. Statista (gated) found that in 2018, U.S. return delivery costs were estimated to be 381 billion U.S. dollars. This figure has been steadily increasing and is predicted to reach 550 billion U.S. dollars by 2020.
Unfortunately, free shipping, as well as free returns, are something that customers want as default offerings from any online store. In the past, and even today, this has put online stores in a spot to figure out innovative ways to meet customer expectations.
There are two brands that have turned this challenge into their competitive advantage. The first is Amazon Go, which allows customers to pick up products, pay for it through their Amazon Pay app without having to wait for a second at the cash counter — because there isn't any. Although Amazon Go is limited to groceries, we can envision a future when this lightning fast way of shopping will become mainstream.
After Amazon, it is Warby Parker that seems to have hit the sweet spot in impressing customers. Their Home Try-On facility allows users to select five frames to test out for five days — and all the five frames will be shipped to customers for free.

Source:bespokeuni
What's in store for eCommerce in 2020
In the 1990s, when Amazon was in its initial stages,eCommerce development was hardly heard of. It was not even a part of the software development vocabulary. Today, it is a Trillion dollar industry that is enabling individuals to small teams to build their own online stores rich with experiences aimed to win customers.
2020 is going to be yet another year when online retailers will experiment with new strategies and tactics to woo customers and to retain them. There are solid trends that signal these oncoming strategies and tactics. From drone deliveries to better return policies and everything in between, there is so much to look forward to.
Data privacy, which was often overlooked in the previous years, will become a serious priority for all. Similarly, small businesses will also rise to the occasion to give solid competition for established players.
All said it is safe to assume that 2020 is going to be an interesting year for eCommerce retailers and consumers.