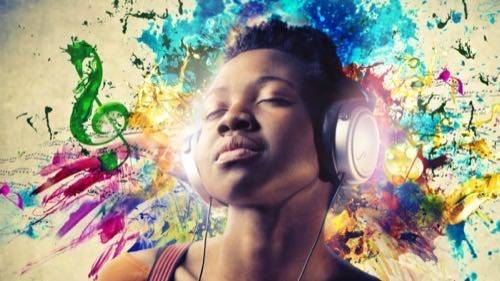 Spotify wasn't built for discovery. The Swedish music streaming company realizes this and instead of trying to natively bake a zillion features into its service, it launched a platform for third party developers about a year ago.
Spotify's app directory now features almost 60 HTML5-based add-ons for the service's desktop client. These apps perform a lot of different functions – some are social, while others sonically augment album reviews from big name publishers. The thing for which they're probably most useful is discovering music you might like but may never have heard otherwise.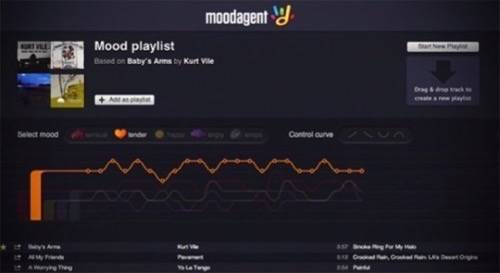 1. Moodagent
Since launching on Spotify last year, Moodagent has been one of the most interesting apps on the platform. That's because it takes standard algorithmic music recommendations and beefs them up with emotional intelligence.
There are at least a dozen apps that let you build a playlist based on related artists, but Moodagent factors in the mood of each song to build out something that feels more consistent. The options look broad, but are surprisingly powerful. A playlist can be sensual, angry, happy, tender or some combination of all four. You can even base them on tempo, playing back a series of similarly paced songs. Tie these characteristics to the same kind of artist-to-artist matching algorithm that fuels so many other music-discovery apps, and you have a uniquely intelligent system for finding new music.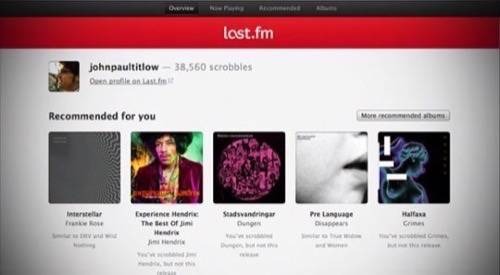 2. Last.fm
Last.fm has been around for a decade now, but the Internet radio and music recommendation service is still a reliable tool for discovering new artists. It works by keeping track of everything you listen to and using a Pandora-style algorithm to recommend related artists and albums. It's a simple concept, but one that apparently holds up quite well over time.
Existing users of Last.fm will feel right at home in its Spotify app, which more or less frames a slightly modified version of the service's usual interface into Spotify's desktop client. The results occasionally need to be tweaked, but on the whole the recommendations are pretty solid. A few albums in my own physical record collection landed there thanks to Last.fm's ability to turn up hidden gems.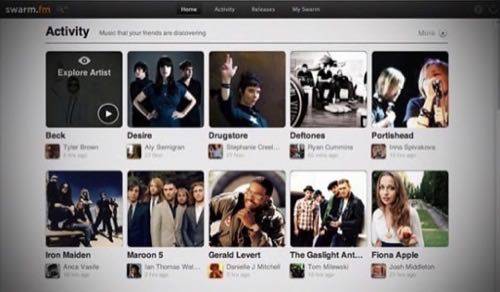 3. Swarm.fm
Oh great, another social music-discovery app. Ho-hum.
Actually, Swarm.fm is pretty useful. It uses data from Facebook to show you what music your friends are listening to, even if they're not signed up for Swarm.fm. If they are, that data becomes much more detailed and easily explored. Swarm.fm will also let you know if any artists in your own collection have new releases, which is far more relevant than the new releases coughed up by Spotify itself.
That tag cloud on the home tab might look like just another collection of metadata, but it's actually informed by your social music data. I listen to a number of artists who don the tag "space rock" – and when I click that tag, it shows me dozens of similar bands. I can then sort those artists by popularity and what's trending on Swarm.fm, which is a good way to pinpoint worthwhile listens.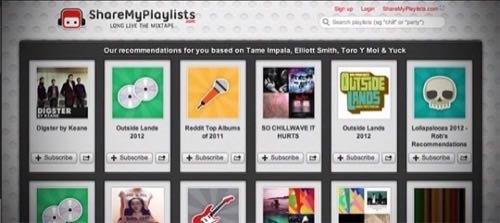 4. ShareMyPlaylists
When I first opened ShareMyPlaylists, I thought "Oh, this is looks fairly generic." Alternative, Classical, Blues, Dance. One-size-fits-all playlists.
I was wrong.
When you scroll down, you see a wide variety of very specific playlists: Beatles covers, the songs sampled by Nas and music from Quentin Tarantino films, songs featuring Moog synthesizers. It's a random conglomeration of curated listening experiences, but one that is well worth browsing.
ShareMyPlaylists has something for absolutely everyone. Devotees of popular music from the charts can browse the "Top 50" tab while those with more under-the-radar tastes will find plenty of new stuff under the "Recommended" tab, which finds playlists based on the artists you listen to the most. If nothing in either section suits your mood, you can always run a search or use the app's built-in playlist generator.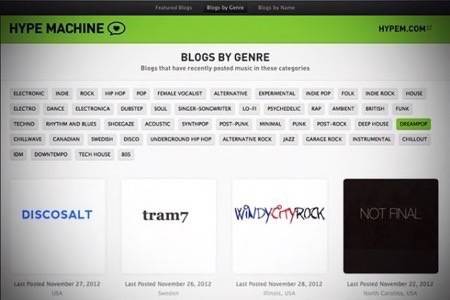 5. The Hype Machine
It's been a wildly popular MP3 aggregator on the Web for years, so it only makes sense that The Hype Machine would find its way into Spotify's app store. It's right at home on top of the streaming service's massive library of music.
The Hype Machine eschews the complex algorithm in favor of human-curated playlists. Specifically, it aggregates tracks from popular music blogs across a wide range of genres, each of them very heavily populated. Dream Pop, for example, isn't exactly a top 40 genre of music, but the Hype Machine pulls together no fewer than 100 different blogs classified as such. It's loaded with music, all hand-selected by Internet tastemakers and guaranteed to introduce you to something you haven't heard before.
A Growing Universe Of Music Discovery Apps
Narrowing this list to just five selections wasn't easy. There are plenty of discovery apps on Spotify worth checking out – top charts from We Are Hunted and Billboard and social music from TweetVine, Soundrop and Sifter. Depending on your tastes, the critic-curated recommendations from Pitchfork, Rolling Stone, NME or KCRW can be invaluable.
It's also worth mentioning that the new, supposedly Pandora-killing Spotify Radio feature is worth playing with. Its Echo Nest-powered recommendations are not quite as granular and effective as Pandora's, but they're quite good. Not only can you create a station based on any album or artist, but you can build one off of an entire playlist. This is pretty powerful. For instance, if you've starred a lot of music on Spotify, you can build a radio station based solely on those favorites.
Here's another Spotify Radio trick: The Last.fm app will let you generate a Spotify a playlist based on your dozen or so most-played albums of all time. You can then start a Spotify radio station based on that playlist, which is sure to contain a few tracks you'll love, but have never heard before. And isn't that the point of music discovery?