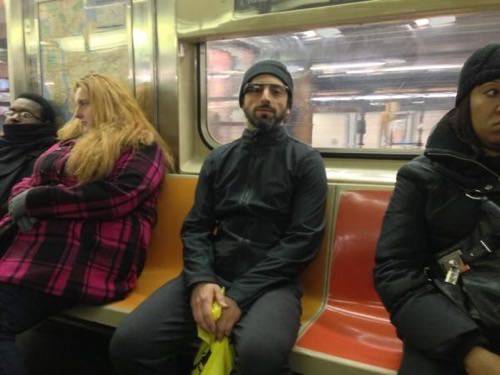 Google co-founder Sergey Brin famously hates doing press interviews, in part because he thinks it's a waste of his time (which it probably is) and in part because he treasures his privacy. Despite being one of the richest people in the world, Brin still enjoys almost complete anonymity. He can go anywhere in the world and most people have no idea who he is. That includes riding on the subway in New York, something I've been told he likes to do. (And something that most rich and famous people can't do.)
But last night Brin had the bad luck to run into the one guy in New York who would recognize him – computer geek Noah Zerkin, who describes himself as a "wearable computing and augmented reality enthusiast/hardware prototyper" from Brooklyn, who snapped this photo of Brin looking cool in a pair of Google glasses and riding the 3 train. Zerkin chatted Brin up, and wrote, "Yeah… I just had a brief conversation with the most powerful man in the world. On the downtown 3 train. Nice guy."
A couple of things worth noting:
Check out the women on either side of Brin, paying absolutely no attention to the weirdo with the wacky glasses who also happens to be the world's 24th-richest man, worth $18.7 billion according to the most recent Forbes billionaire list. (This is why I love New York.)
Note the absence of bodyguards and PR handlers. Brin appears to be traveling alone. In New York. Late at night. Maybe his security team keeps their distance, or maybe he's just loves living dangerously.
Based on the outfit, Brin appears to be living some kind of Tony Stark double life. Any guesses as to what he does in his spare time, cruising the subways in New York all dressed in black and wearing superhero glasses?
Photo by Noah Zerkin.