Every year at Burning Man, I have the same argument. Someone plays the role of the starry-eyed futurist, someone else is the grizzly survivalist. The futurist says, "If only we had map and chat apps out here, we could meet everyone and see everything! It would be a utopia!" The survivalist says "Hell no. We come out here to get away from all that." At Burning Man, as in everyday urban life, the answer lies somewhere in between.
I think what scares the grizzly survivalist (which was me this year) is the notion of burners walking around Black Rock City peering down their arms at the glow of a smartphone instead of looking around at the people and the spectacle. It's already happening to some extent. Now that smartphones are many people's primary camera, people have them out even without a data connection.
That's bad enough. On Saturday night, when the Man burns, it's hard to see the real thing through the forest of arms holding up phones and cameras in front of you. I understand why people want a document of this mind-blowing event, but how many (thousand) copies do we need? The grizzly survivalist worries about the spirit of those spectators who watch life through the screens rather than connecting directly through their optic nerves.
There are Burning Man-specific apps, like iBurn, but I have never seen the thing in use. Frankly, I hope I never do. Black Rock City is designed to be dead easy to navigate, and Burning Man is the best place in the world to ask for directions. It doesn't even matter where somebody sends you; you're going to like it.
Meeting People Is Easy
The topic of social networking also comes up inevitably in Burning Man's annual tech conversation. There are too many cool people there to meet them all, the reasoning goes. Wouldn't a little app with searchable profile pages, photos, lists of interests, events and messaging help us have the best possible time?
If you ask me, the repeated failures in the meeting-people app category in general should be enough of a lesson. People don't like meeting people this way. It locks you into plans and creates pressure to be in specific places at specific times, all for the uncertain payoff of meeting someone you only know as a performance of social media skills.
But that's hardly the biggest issue. At Burning Man, anything that keeps you from physically approaching a person and saying hello is a problem. The social network is implicit there. Burning Man is a gathering of collaborators. Everyone is a partner working together on building and maintaining a city that's also an art project. You'll have something to talk about with them, so just do it.
It seems to me that we'd do well to treat every urban encounter this way. Just because Burning Man is explicitly an arts festival doesn't mean that Manhattan or San Francisco can't be regarded as collaborative works in progress.
Art is a critical part of any shared civic space because it gives people something to talk about. It contributes to a shared identity. Art is a technology for creating networks of people nearby. And the best part is that they share the experience, rather than each having their own glowing, 4-inch window on it.
Building A Lighthouse
Amber Case posed a question that perfectly framed this issue on the urban design website Smart Urban Stage: "How do we make public areas where strangers are encouraged to communicate with each other instead of stare into screens?"
She laments the fact that "modern cities are full of 'non-places' – locations where people are strangers to one another and have no impetus to interact." Cell phones provide a "comfortable lighthouse in a sea of uncertain social situations" in our dislocated urban lives.
Case asks for a way to reconstruct public spaces that encourages interaction, and Charlie Todd of Improv Everywhere gives some great examples. The NYC-based group he founded stages fun "missions" to snap people out of their urban isolation.
Certainly, Improv Everywhere is a troupe after a burner's own heart. In fact, if you drop the capital letters, "improv everywhere" is a pretty apt description of Burning Man itself. But human hacks of dreary city spaces can't finish the job. Burning Man artist-architects build physical spaces intentionally to contain and stimulate fully human encounters, and I think our cities need those as well.
Keeping A Portal
Just about any structure at Burning Man can serve as an example, but one artist's work consistently means the most to me. Harlan Emil Gruber's portals are "evolutionary technology" designed to power up the people inside and bring them together.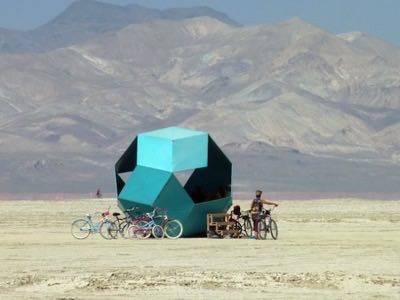 You spot them out on the playa as brightly colored, intriguingly shaped shelters. You climb up into a space big enough to hold 10 or 12 people, and you instantly relax. The whole structure purrs with the sound of the Quasar Wave Transducer, a musical device of Gruber's own design. That tone serves as a baseline. It grounds everyone inside to the same frequency. It brings us in tune with one another.
I've had countless life-changing encounters in these portals over the five years I've been going to Burning Man. This year, I stayed in the 12:21 Turquoise Portal overnight twice, and you can read about those weird trips over on the official Burning Blog. I'm pretty heavily steeped in technology, and nothing I've seen, hardware or software, has affected me as profoundly.
My friend Randall, with whom I hung out in last year's 2:22 Amethyst Portal, wants Quasar Wave Transducers installed in bus hutches and subway stations. Artist Christopher Janney has a head start; he installed an "urban musical instrument" called Reach New York in an NYC subway station in 1996. If you're a technologist looking for a way to bring people together, consider expanding your view. We don't just need more apps. We need interactive public spaces. That's how you network with the people around you.
Jon also writes for the official Burning Man blog. Check out his entries here.