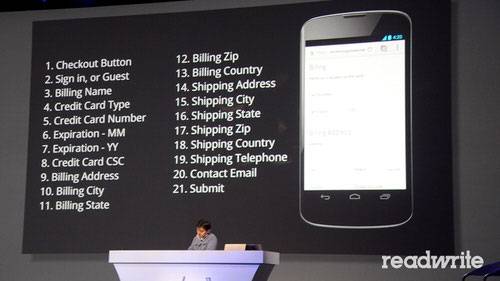 Amazon's 1-Click arguably offers the best shopping experience on the Web—desktop and mobile.
But 1-Click has been slow to expand beyond Amazon's walls. While Amazon offers the convenient checkout service to retail-website builders, competitors are understandably loath to embrace the e-commerce giant's tools.
Now a wiser, bloodier Google has re-entered the fray, taking lessons learned from Amazon and applying them to its own "1-Click" solution for Google Wallet, Instant Buy.
But Google's road to riches won't lie through a button on a website. That's the route it took in traditional Web e-commerce, with its older Google Checkout service, which Wallet replaced after it failed to unseat PayPal and other, more traditional credit-card-processing services. Instead, Google's placing its bet on terrain where it has the upper ground: Android apps and Gmail.
Google announced Google Wallet Instant Buy on Wednesday at its annual I/O conference. Instant Buy, a set of tools for Android developers, is a complement to the Google Wallet API that the company announced last fall. Instant Buy should probably be thought of an evolution of the Wallet API – the older API filled in payment information, while the new version offers a button to "Buy with Google". Instant Buy serves to both authenticate the shopper and actually pay for the purchase, with an intermediary step to confirm. It's a two-click solution the first time a shopper logs in, but then it's down to one if they save their Google login information with the app.
Why is this important? Because buying products via a smartphone can be a brutal experience, requiring dozens of steps to enter payment and shipping information – and users aren't inclined to stick around if they get frustrated. More than 90 percent of mobile users leave a mobile site without buying anything, according to Mike Putnam, vice president of mobile at fashion site RueLala.
For a merchant, a simple, painless buying experience is a virtual necessity, given the rising numbers of mobile shoppers. Last Cyber Monday, for example, about 11 percent of all purchases were made via smartphone, according to IBM, about 90 percent more than the year before. This year, about 15 percent of all online retail sales will take place via mobile, according to eMarketer.
But payment buttons aren't exactly new. So how does Googl plan to get an edge? The familiarity and ubiquity of Gmail, for one. Google also added the ability Wednesday to pay by email, clicking a "$" sign to "attach" a few bucks, much like a document or picture. The funds simply go into the recipient's Google Wallet, where they can be redeemed for real money (via a connection with a bank account) or used to buy movies, games and apps from the Play Store.
PayPal and Dwolla, among others, have offered pay-by-email for years. But PayPal and Dwolla don't have one of the most popular email platforms in the world, tacitly encouraging users to send money at the push of a button. That's one of the more important hooks that the new Wallet offers, a Google spokeswoman said. Eventually, it's possible that Google could push Wallet back into the real world – where it first started out, of course.
What Are The Secrets To Success? Lock-in And Context
In a horse race, a jockey's tools are the whip and blinders. So it is in mobile payments. The most effective way of retaining customers is to eliminate the possibility of going elsewhere. Within the mobile space, the most effective blinder is the app. If you click Amazon's mobile app to buy a router or garden hoe, chances are you're not going anywhere else. Amazon knows that you can shop elsewhere, pay a higher price, and enter your information across all of those dozens of fields – or you can simply stay and buy with one click.
Payments by Amazon, of course, is Amazon's one-click solution, ported to the Web. But check out Payments by Amazon's customer list: the biggest name is probably Ace Hardware. Payments by Amazon offers the same one-click payment that Amazon does, but for the consumer, without the context of Amazon.com, it's just another provider. And for most merchants, Amazon is the enemy.
Google's hold over the customer is weaker. Within Gmail, users simply don't have the choice to send funds via any other provider, but they can simply use PayPal or Dwolla and send money to the same email address. But what Google offers is what Payments by Amazon can't: context. Within the Play Store, Google is building recommendations for movies, music, and apps, based on your own preferences and what your friends have recommended.
Payment providers have a number of arrows in their quiver. PayPal offers the ability to pay via its service at retail locations. Dwolla users can pay via Facebook and Twitter. But attendees at Google I/O suspect that the next step is for Google to begin building profiles of real-world purchases, so that if the Gap adopts Google, visitors to its online store will know what their Google+ friends bought. Virtually every other payment provider lacks the social integration that Google includes.
The idea behind products like Google Wallet—where you could leave your wallet at home and pay for everything by tapping your phone—never really took off. Why? Numerous technical reasons have been suggested—a lack of infrastructure, resistance from financial institutions—but the conversation so far has focused on the problem of paying for things. And paying for things isn't as important as the shopping experience itself, and providing the context for an informed decision that the customer is excited about.
"I'm not saying that there are no advantages to mobile payments," Nick Holland, a former Yankee Group payments analyst, recently wrote. "However, the opportunity for consumer/merchant value addition seems to be less around the transaction and far more around augmenting the retail experience. The mobile payments obsession is missing the point."
And that happy coincidence may well benefit Google.
Photo by Nick Statt for ReadWrite