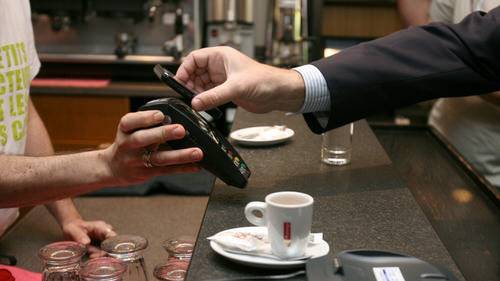 What's in Google's Wallet?
Under the Wallet name, Google has been mostly selling failure. It's offered a confusing array of payment services—most notably, a way of paying for items in stores by tapping your smartphone to a device on the counter.
That in-store payment service has been, let's say it, an outright disaster. But Google is sticking with Wallet—at least in name—with two new services unveiled Wednesday at Google I/O, its annual developer conference held this week in San Francisco.
The first, Google Wallet Instant Buy, allows developers—the focus of Google's efforts of late—to build Wallet as a checkout option on mobile apps, sparing the agonizing dozens of steps required to input a credit-card number, billing address, and other information needed to buy.
The other, like eBay's PayPal service, lets Google Wallet users send money via email.
Eyes On The Payment Prize
Google has long aimed to become a payments player. It knows that many of its searches drive people to e-commerce sites where they conduct transactions. Handling the actual purchase would give it the ultimate informational signal that an ad is effective.
And Google accepts billions of dollars of payments a year—though mostly from small businesses buying search ads, rather than from transactions in goods and services.
More recently, though, the growing number of Android smartphones has created a base of consumers who have signed up for Google Wallet—whether they realize it or not—in order to buy apps and digital content on the Google Play store.
Google hoped to extend that consumer base into purchases in retail stores, but it made a series of bad choices, from the NFC wireless hardware it insisted on to the executives it chose to oversee the project. (Two have left, and one has taken a new, unspecified assignment within the company.) Very few merchants ended up accepting Google Wallet in stores, and very few consumers ever had access to it.
There were rumors that Google was going to unveil one more run at retail payments at I/O by rolling out a plastic Google Wallet card—essentially a regular credit card, linked to a user's Google Wallet account, for buying things anywhere MasterCard was accepted. But that product reportedly ran into glitches, and the most recent head of Google's payments push, Osama Bedier, left the company.
Back To The Web
By bringing payments back to its Web roots, Google is essentially mimicking the architecture of PayPal. The main reason for offering email payments seems to be feature parity with PayPal. But Google has one big advantage over PayPal—namely, its ability to build Wallet into every Android phone and its hugely popular Gmail service.
Right now, the in-app Wallet checkout feature seems geared for e-commerce on the go, rather than purchases in stores. But it's easy to imagine this new instantiation of Google Wallet getting used in stores, too.
How would this work? Think of how Apple lets you pay for Apple Store purchases with an app, charging a stored credit card. Or how Square lets you buy a coffee by saying your name—no card swipe required. Or how you can get a ride in an Uber town car without having to sign a paper slip.
Could Google help merchants build apps that allow customers to pay for purchases without digging into their pockets—no credit-card swipe or smartphone tap required? This makes the most sense for ordering items ahead of time for pickup. But it would be simple to speed that up. Maybe Google Wallet would generate a virtual gift card that old-fashioned cash registers could scan.
The threat to Google's never-fading payments dreams is that others may get there first. Braintree and Stripe are already popular with app developers, and work on more than just Android. Meanwhile, Square, PayPal, Groupon and others are colonizing retail checkout counters with iPads.
Those rivals should not rest easy, however. Google has shown a stubborn determination to enter the payments business that it hasn't demonstrated with other more experimental projects. And with these latest products, sensibly designed around how developers and consumers actually want payments to happen, it may have finally gotten its cards laid out straight.