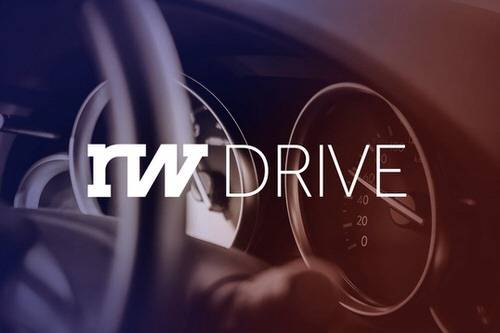 Existing laws are supposed to prevent motorists from using smartphone apps while driving. But they aren't working. The number of drivers injured or killed by distraction continues to rise.
I don't harbor hope that automakers—notoriously bad at digital driver interfaces—will find the best solution. The way forward is more likely to come from a small startup, perhaps a company like Navdy. The San Francisco company is attempting to solve the distracted-driver epidemic by moving car data and mobile functions away from clunky dashboards and tiny phone screens—and onto simple interfaces that magically float six feet in front of the driver's eyes.
Navdy's one-two tech punch is straightforward: It combines a heads-up display with gesture recognition in an attempt to minimize distracting demands on a driver's attention, whether taking in new information or giving commands.
Everything you might need to know—from vehicle speed and turn-by-turn directions, to incoming text messages or the name of the tune bumping on the radio—is displayed directly over the road. Every means for controlling the apps—wave your hand to the left to accept a call, or to the right to reject it—is supposed to work like Leap Motion, without diverting your gaze.
No More Touchscreens, Knobs and Buttons
Navdy today launched the pre-order campaign for its aftermarket product. The company is offering a price of $299—a 40 percent discount from its expected retail price of $499. The first shipments are expected in early 2015.
Last week, Doug Simpson, Navdy's chief executive and co-founder, gave me a demo of the product on a spin around the Berkeley hills.
Simpson previously ran a research and manufacturing division for Hewlett-Packard and later created Digiblast, a portable multimedia device for kids. Karl Guttag, his co-founder and chief technology officer, has more than three decades of experience in integrated circuit architecture related to graphics and image processors. Highway1—a San Francisco-based hardware incubator sponsored by PCH, a major manufacturing company—helped bring the product to life.
"The idea grew out of my own frustration of using a phone in the car and fumbling around with a touchscreen, and having one too many almost-accidents," said Simpson.
"The issue with touchscreens, knobs and buttons, wherever they are, is they force you to look down," he continued. "Whenever your eyes are off the road, you are three times more likely to have an accident."
Still More Idea Than Reality
Here's a promotional Navdy video that gives you a sense of how the company expects the gizmo to work:
In reality, however, Navdy remains very much a work in progress. The prototype that I saw, mounted on the dashboard of a rented Toyota Corolla, lacked much of the polish—and many of the features—shown in the video. "This is not the final product, but most of the hardware development is done," Simpson acknowledged. "We're in final testing now."
The flat device is about the size of a salad plate with a two-by-five-inch see-through flip-up screen. When the car idled, the bright image temporary vibrated until we got going. It was powered by a portable battery pack instead of connecting to the car's diagnostic port as planned.
Most important, it lacked the gesture recognition and ability to react to spoken commands—features that are central to Navdy's strategy.
Yet it was clear from Simpson's immediate and thoughtful responses to my questions that Navdy has specific plans to address the technical challenges. "We think we'll be first to market with the combination of the two technologies, which complete the eyes-on-the-road experience," Simpson told me.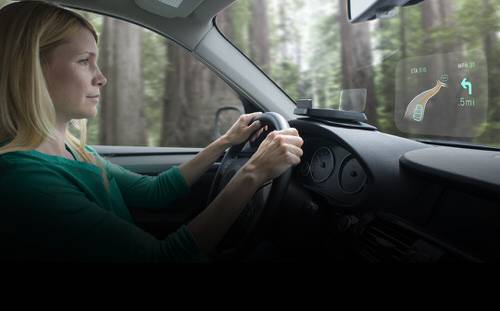 All About the Optics
Simpson said the tricky optics were custom designed. "We have an extremely bright projector. It's 40 times brighter than your iPhone," he said. Indeed, on the sunny day of the demo, the image was clear and focused as it pulled turn directions from Google Maps on a paired iPhone.
Simpson talked about high-gain screens, and different types of light being alternately reflected, distributed, dispersed, magnified or rejected.
Projecting on the device's small glass screen is cheaper and easier than using the windshield itself, which would require special optics sandwiched into the glass. Also, those expensive windshields come in a variety of different curvatures.
To reduce the cost of heads-up displays, major automakers, such as Mini and Mazda, are also opting for the same type of "combiner" heads-up display—a small transparent screen on the dash—like what Navdy is using. IHS, an automotive market research firm, forecasts that by 2020, combiner displays will account for 60 percent of head-up displays sold worldwide.
For its gesture recognition functions, which will use an infrared camera aimed at the driver, Navdy partnered with a major company in the image processing space. (Simpson declined to give the name of the firm.) "We looked at what technology we could integrate versus what we could build ourselves, and how to blend it together into a magical experience," he said.
One of the challenges is how close drivers are situated to the device—requiring a fish-eye lens to allow sufficient range of view to read the driver's gestures. Car interior lighting conditions can also be challenging.
The interface is key. On top of the data coming from the phone—including apps like Google Maps and Spotify—Navdy uses the dongle attached to the diagnostic port under the steering column to gain access to a wide range of car data, including vehicle speed, miles-to-empty and tire pressure.
In that sense, Navdy is something like a hardware-software platform upon which apps—or entire heads-up designs—could be built. The company has future plans to open up its system to third-party developers.
During the demo, this text message popped up with the name and photo of the sender: "See you very soon." It looked like a demo, rather than a real message. Simpson said that the default text-message setting is to read text messages while the car is moving, but display them when the car is stationary. Emails are out of bounds.
The company built Navdy on Android, although it can pair with either Android or iPhone devices. The system can work with any car. The biggest vehicle compatibility challenge is mounting the device on all the various sizes and shapes of steering wheel humps.
Getting From Here to There
Currently, the closest drivers can get to glanceable (and minimally distracting) phone functions is to install a dashboard mount for a cell phone. Amazon lists a few of them less than $10. That's 50 times cheaper than the $500 device from Navdy—although of course the experience of looking at a fixed small display is dramatically different from one that's projecting data right in the driver's field of vision.
Who knows how quickly Navdy will move from the rough prototype I saw to a finished and affordable product that offers all the promised gesture recognition, voice, and deep integration with car and phone data. Even if it's still a ways off, it's still a fascinating glance at where in-car informatics may be headed.
I fully anticipate that within a few years—whether we are driving or the car is driving itself—we will no longer need to look down at a phone, or for that matter, a set of dashboard controls. Everything will be projected or embedded in the windshield, and hopefully, distributed over a wide area of view. "We are working on a scenario where we will use the whole windshield," said Simpson. "That's the vision."
Images courtesy of Navdy