The advent of the connected home has made it possible for our everyday appliances to talk to us, and more important, to each other. Thermostat control, energy conservation, and routine maintenance are just a few more things your average smart homeowner no longer has to worry about.
So when you buy somebody a connected home appliance as a holiday present, what you're really giving them is the gift of their most scarce and treasured commodity, time.
See also:
We've selected some of the most interesting and useful connected home appliances on the market to help you and your loved ones streamline your lives.
Smart Home In A Box
Our pick: SmartThings Hub, $99
For the person who just wants to get started hooking up their connected home, there are dozens of "smart homes in a box," or ready-to-go sets of appliances to begin connecting and controlling your appliances, all automated by a central hub. One of the most impressive of these comes from SmartThings.
The set includes a visual remote control app for your smartphone so you can transform even the oldest home into a connected one using SmartThings' line of connected appliances. From doors and locks to lights and switches to motion detection, there are SmartThing sensors that can control every possible facet of your home life. The company even has a kind of app store so you can add new control features to your existing gadgets.
One more thing: SmartThings is now owned by Samsung. The Korean conglomerate says it will be integrating SmartThings technology into its other lines of conventional appliances—ranging from refrigerators and ovens to smart television sets and vacuum cleaners.
Runners-up:
Energy Saver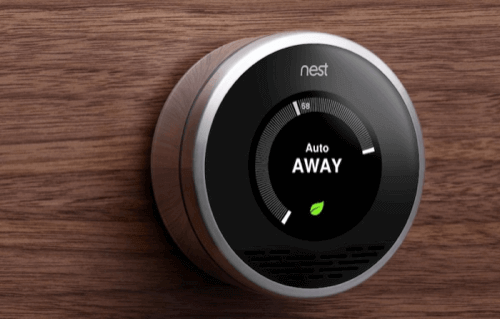 Our pick: Nest Learning Thermostat, $249
No matter how hot the summer or chilly the winter, a smart thermostat lower your utility bills with intelligent temperature control. The Google-owned Nest has won plaudits for its ability to automatically adjust its settings based on your lifestyle patterns. It can also connect with other smart gadgets such as smartwatches to smart lighting to smart cars and share data.
One thing that makes smart thermostats intimidating is the complicated process of programming them. Not so with Nest. This thermostat learns from the temperatures you set and when you set them, and creates a personalized schedule that conserves energy when you're not there.
For developer types, Nest also has a public API (see our API explainer). So tech-savvy users can build custom apps to work alongside it and offer even more functionality.
Runners-up:
Automated Security
Our Pick: Okidokeys, $189
Once you get past the obnoxious name, there's a lot to love about Okidokeys. Anyone who has ever locked herself out of the house will appreciate the way this product turns any lock, no matter how old school, into a wireless smart lock. Replace your door's deadbolt with the smart-lock module, and you can unlock the door by sending it a message from your Android or iOS phone via Bluetooth.
The thing we looked for in a smart lock was a module that could work in an older home without a lot of difficult installation, and this fit the bill. For $189, you get a single smart lock for one door. Then again, for many apartments (and some houses), that's all you need.
Runners-up:
Kitchen Helper
Our pick: Crock-Pot Smart Slow Cooker, $130
This is the kind of smart home appliance that doesn't come in a set and connect to a major hub, but that can still make your life much easier.
Supposedly it's fine to leave a slow cooker going while you're at work all day. And in theory, it's fine. But what if an emergency comes up at work and you won't be getting home when you expected? Just like I wouldn't leave the oven on while I was out of my house, I still don't like doing the same with a crockpot. Which is why this WiFi connected crockpot buys peace of mind. It connects to a WeMo smart phone app so you can control it remotely according to your constantly shifting schedule.
Runners-up:
DIY Smart Home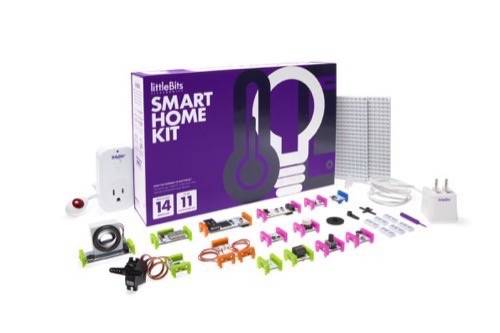 Our pick: LittleBits Smart Home Kit, $249
For the tinkerer who sees the advent of smart home as more of an adventure than a product to install, this kit from LittleBits has all the bells and whistles. For the person who has more time than money, it might be more fun to modify the products you already have around your house than to buy brand new "smart" ones.
Using a central smart phone app, you can automate your pet feeder or program your curtains to open in the morning. This kit comes with 14 modules, from a temperature sensor to an MP3 player to littleBits' version of the central smart hub, the cloudBit. Like all littleBits products, this kit requires no soldering. The brightly colored modules snap together with magnets so you don't have to worry about complicated breadboards or incorrect wiring.
Runners-up:
Photos via SmartThings, Nest, Okidokeys, Crock-pot, and LittleBits