The epicenter of the technology industry in northern California is more visible than ever, with Newsweek profiling venture capitalists and HBO running "Silicon Valley," a fictional series that was just picked up for a second season.
What these representations of Silicon Valley lack are women. And it's a longstanding problem: From sitcoms like The Big Bang Theory to big movies like The Social Network, women in technology are portrayed as accessories.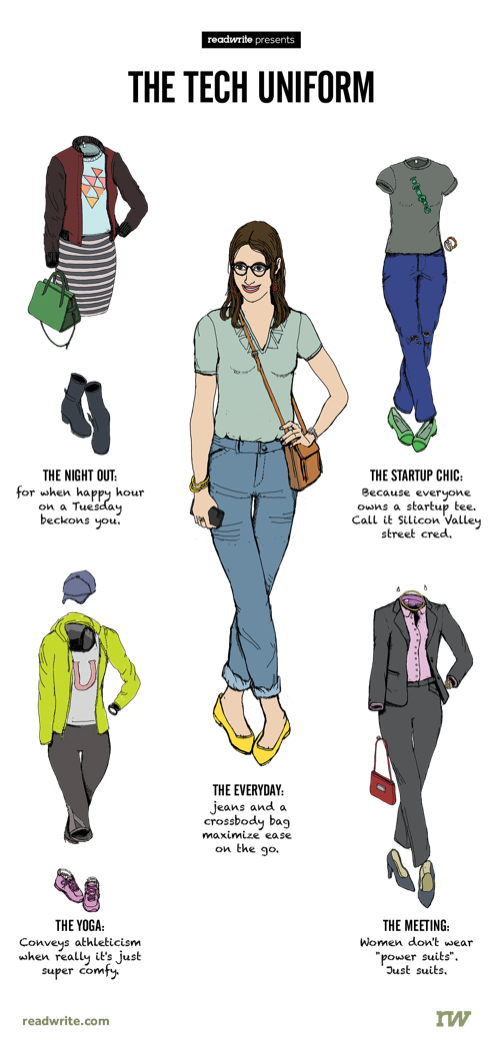 Not Your Female Sidekick
We at ReadWrite think accessories are things you put on your wrist or neck, not a category you relegate an entire gender to. So I picked up our camera, hopped on the Caltrain to Mountain View, and started documenting real women who work in technical roles creating amazing new digital products.
In my last street-style fashion shoot, which focused on the appearance of men in tech, I found that HBO's Silicon Valley did present a certain reality—a male-dominated media representation of a male-dominated industry. By picking up certain looks—yes, the stereotypical hoodie—these shows turn casual college looks into an industry uniform. Wearing it now conveys an implicit message of belonging to the engineering priesthood.
In this exploration, I wanted to find what wasn't being shown on the screens. And what I learned was that if there's an upside to the lack of representation of women in technology in media, it's that there is no such constraining uniform for women. (In illustrating what they wear, my colleagues couldn't settle on a single look, but rather an interchangeable set of options.)
More importantly, I got to learn who these women in tech really are, and what their work style means to them.
Questions And Answers Of Style
My first stop was the offices of question-and-answer site Quora, where I met with software engineer Ayelet Bitton.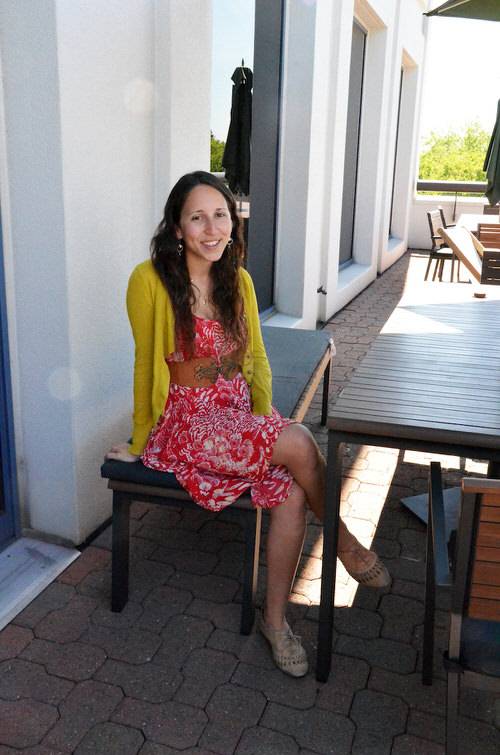 Bitton, a San Diego native, grew up in a family full of tech-inclined folks. As a child, she swore she'd never become an engineer, until one she took a computer-science class in her sophomore year in college which changed her mind.
Outfitted in a red floral dress, mustard cardigan, wide leather belt, and pale oxfords, Bitton tells me that dresses are a staple in her closet for everyday and work wear.
Bitton believes that there are no style restrictions in Silicon Valley tech companies. At the least, she'd never work anywhere that judged her for her clothing choices.
"If other women who were nervous to get into tech could see me wearing a dress, maybe they will think that they can fit in, too," says Bitton.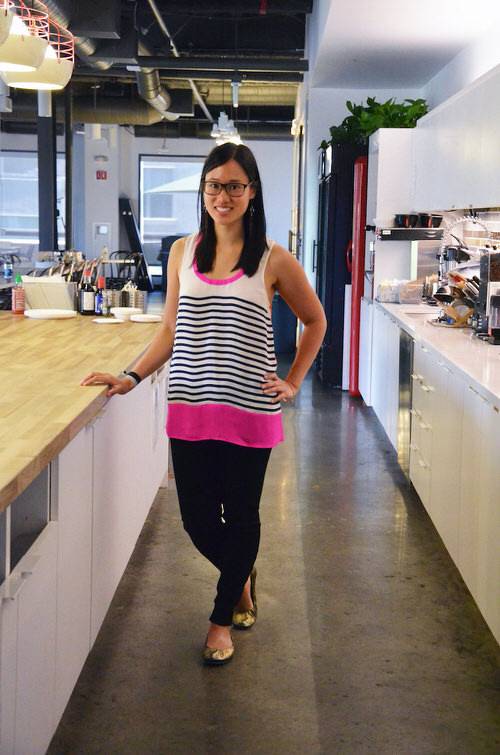 Sheila Lee, a data-science analyst for Quora, also finds empowerment through the ability to be comfortable at work. Wearing a pink-and-white striped tank, jeans, and gold ballet flats, Lee says that women in tech wear whatever they want to wear.
Her style varies from day to day—dresses on some days, leggings on a yoga day, but always Tieks ballet flats.
In her previous career working at financial firms like ITG and AXA, she did have to wear a "uniform" limited to suits and sweater tops. Lee prefers the casual way she now dresses for work at Quora.
Hardware And Hardwear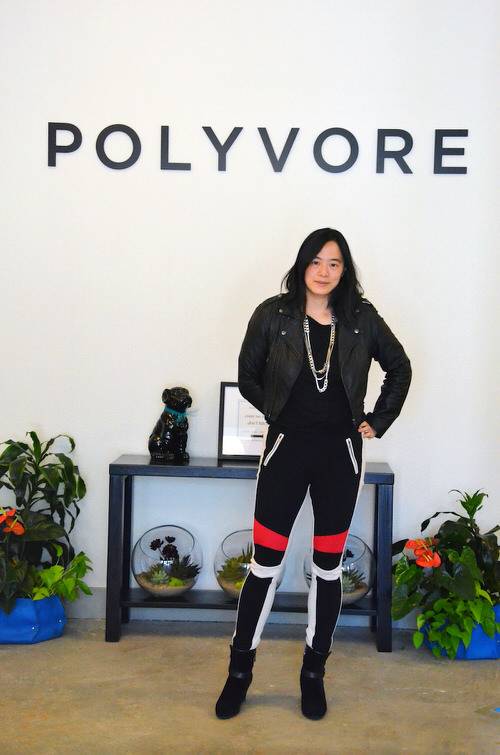 My next stop took me to the offices of Polyvore, a social e-commerce website. Engineer Cindy Chu works on creating user experiences for Polyvore's desktop and mobile users, who "clip" items into collections called "sets." While uses vary, most collect items of apparel into looks they want to try out, which gives the company a fashionable vibe.
Chu describes her style as somewhat mix-and-match. She will often pair casual staples with dressier items, like jeans with heels or dresses with boots. With these outfits, she loves to accessorize with hardware like spikes and studs.
At Polyvore, Chu feels employees aren't judged by what they wear but rather by their ideas and the quality of their work. She contrasts that to her work as an engineer at a previous job, where she felt the culture prompted employees to wear things that fit in.
"Tech tries to be very meritocratic," says Chu, "But sometimes it gets taken a little too far. People are often suspicious of others who dress nice—they may brand you as not being an engineer."
Chu believes that some women in engineering feel pressure to conform to a certain casual standard, but at Polyvore—logically, given the site's emphasis on fashion—lets employees dress however they like.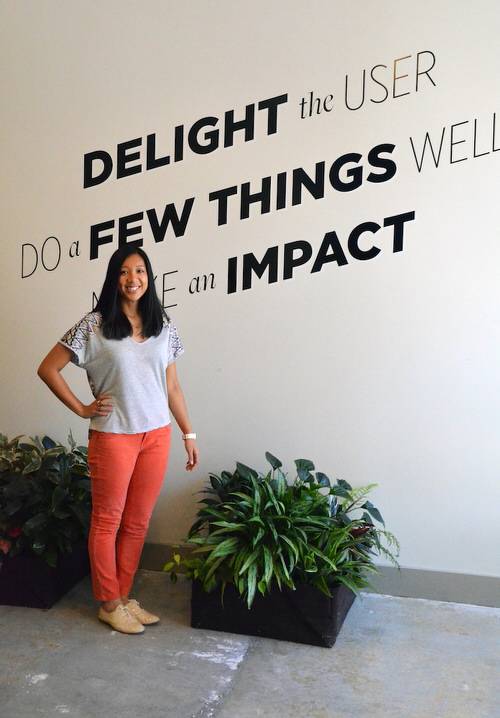 Polyvore product manager Vickie Peng agrees with Chu's take. As a member of the revenue team, she works to connect the site's style influencers with users and advertisers.
Peng tells me she's never worried about her daily work outfit because there is so much style freedom at Polyvore.
At her past work in investment banking, Peng felt the constraints of always having to be "business casual." At Polyvore, she feels the freedom to switch things up. As a sports fan, she enjoys wearing team jerseys, but she also often opts for heels and a dress.
Next, I sat down with Nadia Hussain, community director at Polyvore. She told me that the vibe of self-expression at the office resonates to their work on the site.
Hussain says she feels empowered to dress however she feels, whether that means dressing outfits up or down, or switching between Nikes and heels.
"There is a flexibility in tech," says Hussain. Outfits depend on job function and plans for the day.
The Fashion Code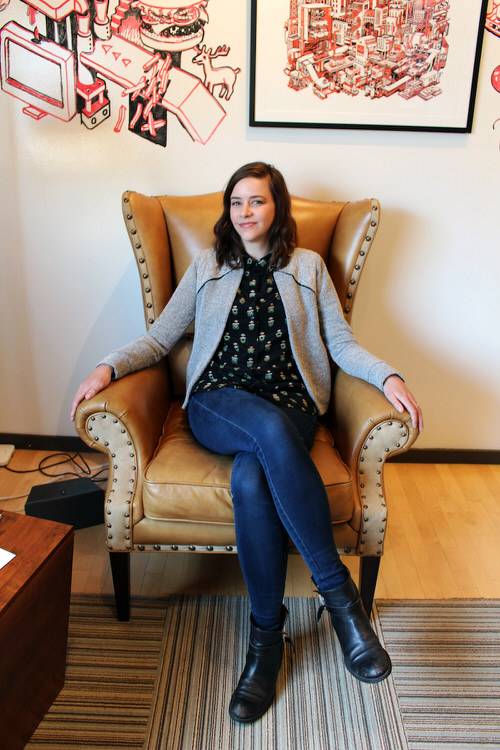 Smith Schwartz is an interaction designer for Say Media, an online publisher (and the parent company of ReadWrite). She previously worked on exhibitions at the Art Institute of Chicago. In making the transition from museum work to engineering, she came to think of herself as a designer who works in code.
"My work style is like my code style," says Schwartz. "I use modular, reusable components."
The staples that create her everyday outfit are also equipped to take her through San Francisco's moody weather. She feels the need to be ready for all of the seasons in one day.
"Women don't adhere to a programmer uniform," Schwartz states, "You can't tell if a woman is an engineer on Muni."
But like Chu, Schwartz also addresses the stigma of being "too dressed up" for a tech career. She believes that there is a tendency to dress so you don't stick out from the crowd.
Debugging The Tech Stereotypes
There is a very prominent stereotype of the "male techie," a look shot to fame by Mark Zuckerberg and every startup founder who followed his Adidas-clad footsteps sporting a messenger bag, fixie bike, and unshaven face.
That monolithic look, gendered by definition, excludes men and women. Through my interviews and photographs, I learned that the female equivalent of this stereotype just isn't out there. It's not because there aren't any women in tech. They just aren't being represented properly in media, and this creates a cycle where real, living women who pursue technology as a career don't read as such.
Representations of women in film, TV, and the Internet, put people in rigid binaries, and women are no exception.
A woman in tech? Must be a "fake nerd girl." An attractive woman in tech? Impossible. Oh, unless she's in marketing. Take the narrative arc of HBO's Silicon Valley, where the three women who had significant on-screen roles were all love interests—and one was revealed to be a fake programmer who really just ran an app's Twitter account.
It's an unfortunate stigma that eliminates the agency of women in tech, erases representation, and constantly puts into question their power and intelligence.
Meme Girls
Viral images like "Gamer Girls" and "Fake Nerd Girls" perpetuate these ideas in GIF-loving online forums.
Memes like these are another effort that put into question women's intelligence and interests. It perpetuates a culture that says women cannot be invested in "that world"—be it comics, video games, or tech.
That same culture discourages women from pursuing computer-science classes. That same culture operates as a self-fulfilling prophecy, discouraging women who invest time and passion in science, math, or technology.
It's like being Penny in The Big Bang Theory gang. It's a culture of boys' clubs, and women aren't invited.
What can we do? Tell the real stories of real women in technology, and defy the stereotypes through sharing their experiences.
Illustration by Madeleine Weiss and Nigel Sussman. Photos by Stephanie Chan.